Asahi Kasei Plastics named to SPE® innovation award for materials supplied on dodge RamBox® storage container
November 15, 2011
Asahi Kasei Plastics North America, Inc.
November 15, 2011 – Fowlerville, Mich., Asahi Kasei Plastics North America, Inc. and Penda Corp. shared the stage in Livonia, Mich. at the Society of Plastics Engineers (SPE®) Automotive Innovation Awards Gala with Chrysler Group LLC, winning the "Most Innovative Use of Plastics" award in the Body Exterior category for the Dodge RamBox® assembly. The RamBox® storage system sports the industry's largest twin-sheet thermoformed lid and is also the largest, most versatile, lockable, waterproof storage and cargo management system available in a pickup truck. Now in its 41st year, the SPE Automotive Innovation Awards Competition & Gala is the largest and oldest recognition event in the automotive and plastics industries.
"Winning this award is a first for our company," said John Moyer, president of Asahi Kasei Plastics. "It is a testament to our organization's talent and innovative spirit. This is a proud moment for our employees."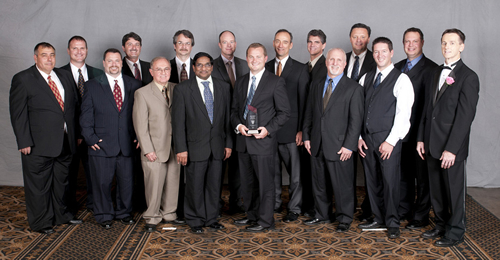 "When the design challenge of the larger RamBox® came up, it was clear the application would require something heavy duty," said Senior Technical Consultant, Russ Herlache of Penda Corp., the system supplier for the program. "No one other than Asahi Kasei thought this could be done in polypropylene – everyone else wanted to sell us more costly nylon."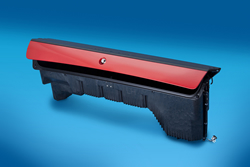 The larger RamBox® posed tougher engineering challenges. The lid still needed to be able to support the weight of two 250-pound men, requiring the new structure to be stronger than its predecessor. The box needed to pass 3 to 5Gs of force (100 pound load, 1 million cycles) to pass durability requirements, plus also needed to pass a point-load test (20 pound load, 5 inch drop).
Asahi Kasei developed two new and distinct UV-resistant Thermylene® grades – one for the twin-sheet thermoformed lid (Thermylene P6-15FG-0741) and one for the injection-molded bin (P8-40FG-4611) – that maximized performance while reducing weight. The weight savings is projected to save $3 million USD over the life of the program vs. alternative technologies (long-glass thermoplastic polypropylene (LFT-PP), short-glass nylon (polyamide, PA) 6/6, sheet-molding compound (SMC), and bulk-molding compound (BMC)).
"Asahi Kasei Plastics set a new benchmark for high performance short-glass reinforced polypropylene," adds Herlache of Penda. "Not only did the new materials they developed meet all the performance criteria, they also enabled a number of industry firsts for manufacturing and processing innovations."
The materials allowed Penda to replace the blow molding process used on the first generation RamBox® lid, creating a stiff yet lightweight part at lower tooling and processing costs. Tight tolerances were maintained with novel cooling and processing methods. Twin-sheet thermoforming also has stronger weld-line strength, better wall thickness control, and enhanced dimensional control through robotic trimming.
"Asahi Kasei's Thermylene® short-glass polypropylene solutions helped us meet the RamBox® design challenges that included customer appeal, good surface appearance, and durability," said Herlache.
Evco Plastics was recognized as material processor for the industry's largest injection molded integral storage compartments. Cavalier Tool and Manufacturing Ltd. and Tooling Technologies LLC were both recognized for their unique process enabling technologies.
About Asahi Kasei Plastics
This Michigan based subsidiary of Asahi Kasei Chemicals Corporation boasts one of the largest manufacturing facilities for the company outside of Japan. Additionally, Asahi Kasei Plastics is the largest glass reinforced polypropylene manufacturer in North America. With sales growing globally, their unique product portfolio is solving complex engineering problems.
Asahi Kasei Plastics provides customized resin solutions globally. Their product lines include THERMYLENE® (polypropylene), LEONA™ (nylon 66, 66+6i), THERMYLON® (nylon 6, 66), TENAC™ (acetal) and XYRON™ (modified polyphenylene ether – mPPE), STYLAC™ (acrylonitrile butadiene styrene – ABS).
SPE® is a registered trademark of the Society of Plastics Engineers.
Thermylene®, Thermylon® are registered trademarks of Asahi Kasei Plastics North America, Inc.
Leona™, Tenac™, Xyron™, Stylac™ are trademarks of Asahi Kasei Plastics North America, Inc.
RamBox® is a registered trademark of Chrysler LLC