Asahi Kasei Plastics unveils 2nd generation stress whitening prevention polypropyelene at NeoCon®
June 4, 2012
Asahi Kasei Plastics North America, Inc.
June 4, 2012 – Fowlerville, Mich. Asahi Kasei Plastics is extending their track record of innovative plastics by announcing the availability of their second-generation Thermylene® SWP – (Stress Whitening Prevention) polypropylene. The 2nd generation Thermylene® SWP builds on Asahi's existing technology and further increases resistance to pressure & impact. Thermylene® SWP is uniquely characterized by its ability to hide stress marks, giving the furniture industry materials that withstand the wear and tear their products receive throughout their useful life.
"We have dramatically improved our second generation Thermylene® SWP," said Scott Kushion, Director of Commercial Services and Industrial Segments. "The difference is so striking that impact tests show virtually no whitening of the material."
To supplement the stress whitening of Thermylene® SWP, this resin mirrors the strong physical properties of nylon with the economics of polypropylene. This latest development also opens the door to applications where polypropylene may not have been considered suitable due to structural and aesthetic design concerns.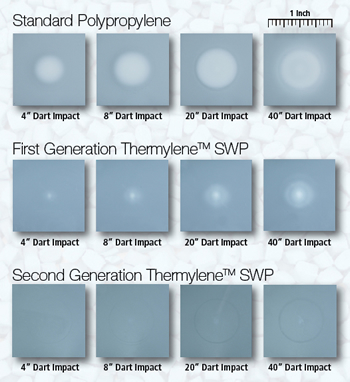 Furniture designers will see a part weight benefit from Thermylene® SWP with a 10-15% reduction in weight by switching from heavier nylon to lighter polypropylene.
About Asahi Kasei Plastics
This Michigan based subsidiary of Asahi Kasei Chemicals Corporation boasts one of the largest manufacturing facilities for the company outside of Japan. Additionally, Asahi Kasei Plastics is the largest glass reinforced polypropylene manufacturer in North America. With sales growing globally, their unique product portfolio is solving complex engineering problems.
Asahi Kasei Plastics provides customized resin solutions globally. Their product lines include THERMYLENE® (polypropylene), LEONA™ (nylon 66, 66+6i), THERMYLON® (nylon 6, 66), TENAC™ (acetal) and XYRON™ (modified polyphenylene ether – mPPE), STYLAC™ (acrylonitrile butadiene styrene – ABS).
Thermylene®, Thermylon® are registered trademarks of Asahi Kasei Plastics North America, Inc.
Leona™, Tenac™, Xyron™, Stylac™ are trademarks of Asahi Kasei Chemicals Corporation
NeoCon® is a registered trademark of MMPI