Receipt of Pirelli Supplier Award
April 12, 2013
Asahi Kasei Chemicals Corp.
Asahi Kasei Chemicals has received the Pirelli Supplier Award 2013 from the major global tire manufacturer Pirelli Group of Italy. The award was received at a ceremony held on April 10, 2013, in Milan, Italy.
Asahi Kasei Chemicals supplies Tufdene™ solution-polymerized styrene-butadiene rubber (S-SBR) to Pirelli for use in high-performance fuel-efficient tires. The award recognizes excellence as a supplier in the seven criteria of quality, innovation, speed, total cost, sustainability, global presence, and service level during 2012. Pirelli is focused on the premium segment in the tire market, and established this series of awards last year in recognition of the importance of outstanding supplier relationships to achieve its strategy.
Having been honored by this prestigious award from one of its most important customers, Asahi Kasei Chemicals reaffirms its commitment to advancing technology and service to meet the demanding requirements of clients throughout the automotive sector.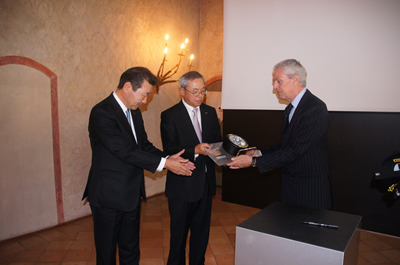 Yuji Kobayashi, President of Asahi Kasei Chemicals (center), and Hiroshi
Yoshida, Executive Officer of Asahi Kasei Chemicals (left), receive the Pirelli
Supplier Award from Marco Tronchetti Provera, Chairman and CEO of Pirelli