Dr. Akira Yoshino awarded the Global Energy Prize
June 24, 2013
Asahi Kasei Corp.
Asahi Kasei Fellow Dr. Akira Yoshino received the 2013 Global Energy Prize in recognition of his invention of the lithium-ion battery, at an award ceremony held on June 21, 2013, as part of the St. Petersburg International Economic Forum.
The ceremony was attended by many of the world's most prominent authorities in the field of energy, and attendees from Japan included eminent persons such as Senior Vice Minister of Foreign Affairs Masaji Matsuyama and the Japanese Ambassador to Russia Chikahito Harada, as well as Mr. Taketsugu Fujiwara, President of Asahi Kasei Corp. At the ceremony, Mr. Matsuyama read a congratulatory message from Japanese Prime Minister Shinzo Abe.
"I'm deeply honored to receive such a prestigious prize," said Dr. Yoshino. "At the same time, I feel a responsibility for the lithium-ion battery to play a major role in solving the world's energy problems. I believe that this recognition of the lithium-ion battery will encourage battery researchers to make even more progress. I will continue to work on innovative new technology which will benefit the people in the world."
About the Global Energy Prize
Established in Russia in 2002, the Global Energy Prize is one of the world's most respected awards in energy science awarding outstanding energy achievements and innovations. The winners of the 11th Global Energy Prize were selected by the International Award Committee from 82 candidates who were nominated by eminent scientists from all over the world. The degree to which a development contributes to the benefit of humanity is a key driver in deciding the recipient of the Prize. Since 2002, the prize has been given to 29 people from 9 countries.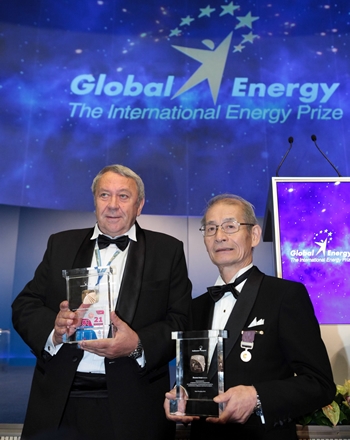 Dr. Akira Yoshino (right) receiving the Global Energy Prize, together with Dr. Vladimir Fortov (left)
Related link
"Dr. Akira Yoshino chosen for the Global Energy Prize," April 19, 2013
http://www.asahi-kasei.co.jp/asahi/en/news/2013/e130419.html