Launch of AK09911C, a new 3-axis electronic compass for portable appliances

– world's smallest size of 1.2 mm square –
October 24, 2013
Asahi Kasei Microdevices Corp.
Asahi Kasei Microdevices (AKM) has launched the AK09911C, its latest 3-axis electronic compass for portable appliances, and volume shipments are under way.
Electronic compasses measure geomagnetism to determine azimuth. This is used for electronic map applications such as pedestrian navigation systems to rotate the map to match the direction the users are facing. Since its launch of the world's first 3-axis electronic compass for portable appliances, the AK8970, in 2003, AKM has continued to develop its leading-edge technology for successive product improvements.
In addition to their superior hardware performance, AKM's electronic compasses feature highly functional software for automatic calibration. This groundbreaking software enables the compass to automatically adjust for calculation errors that are introduced by other magnetic parts within the portable device. AKM also provides device manufacturers with a rich array of technical support and service, including evaluation systems, to help make the most of the combined hardware and software solution.
These many advantages have been widely recognized throughout the industry, and AKM's electronic compasses are widely adopted in mobile phones, smartphones, and tablet devices, gaining a dominant market share worldwide.
Following the AK09911C, AKM will further expand its electronic compass product lineup by launching the AK09912C featuring lower driving voltage and lower current consumption in a package that offers footprint compatibility with the AK8963C.
Distinguishing features of the AK09911C are as follows:
1) World's smallest size
The package size (area) of the AK09911C is reduced to approximately 56% of the AK8963C, AKM's smallest electronic compass until now.
2) One-chip electronic compass architecture
The AK09911C consists of AKM's exceptional one-chip electronic compass architecture with a 3-axis magnetic sensor comprising Si monolithic Hall elements and a magnetic concentrator. This provides inherently superior performance than a traditional multi-chip module configuration in which even slight orthogonal errors during module assembly have a critical effect. With the Si monolithic architecture, the three Hall elements are manufactured directly on a single silicon substrate. Together with the magnetic concentrator, this enables mapping of geomagnetism data in three dimensional vectors for analysis. The simpler processing and assembly of this architecture not only eliminates orthogonal imprecision but also enables efficient mass production using conventional semiconductor manufacturing equipment to maintain stable supply even as demand grows.
3) Wide measurement range
The AK09911C features the world's widest measurement range for an electronic compass, the same as the AK8963. This wide measurement range enables the compass to be less affected by magnetic interference from other parts within the portable device, providing greater freedom in device design by enabling more flexibility in the placement of the compass on the printed circuit board.
Basic specifications of the AK09911C
| | | |
| --- | --- | --- |
| Packaging: | | 8-pin WL-CSP package, 1.2 mm × 1.2 mm × 0.5 mm |
| Measurement range: | | ±4900 µT |
| Resolution: | | 0.6 µT/LSB |
| Average electric current during measurement: | | 2.4 mA typ. at measuring frequency of 100 Hz |
| Interface: | | Two-wire I2C |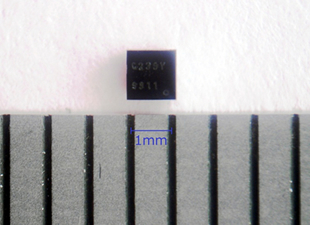 The AK09911C