Completion of a new research complex in the Pharmaceuticals Research Center
October 28, 2013
Asahi Kasei Pharma Corp.
Asahi Kasei Pharma has completed the construction of a new research complex in its Pharmaceuticals Research Center in Shizuoka, Japan, and began its utilization on October 25, 2013.
Background
Expansion of operations in the field of health care is a major objective under the Asahi Kasei Group's "For Tomorrow 2015" medium-term strategic management initiative. The newly completed complex provides Asahi Kasei Pharma with an enhanced infrastructure for more effective pharmaceutical research focused on the successive creation of new drugs which meet unmet medical needs.
About the new research complex
Equipped with advanced experimental apparatus and facilities for greater functionality, the new complex provides a globally competitive research environment. It also brings the previously separated synthetic and medicinal chemistry research group and pharmacology research group together in a single shared facility for closer coordination, and incorporates many design elements to facilitate interaction and communication among researchers, raise the efficiency of research, and heighten the drug discovery effort.
To further enhance its drug development capability, Asahi Kasei Pharma will also construct an animal experiment annex attached to the new complex, with groundbreaking scheduled for May 2014 and utilization to begin in April 2015.
In accordance with the Asahi Kasei Group Mission of contributing to life and living for people around the world, Asahi Kasei Pharma is "Creating for Tomorrow" through the development of innovative new drugs that provide new value for society.
Key concepts of the new research complex
Fostering innovation
Innovative ideas are often generated spontaneously through informal communication. To encourage interaction, exchange of ideas, and discussion among researchers in different fields, the new research complex offers several open spaces for communication, with the office spaces on each floor connected by open staircases.
Workspace comfort
Offices are located next to each laboratory for easy access, and both offices and laboratories provide ample working space. The comfortable working environment is further enhanced with various areas for relaxation.
Energy conservation
The research complex is designed for low environmental impact with energy-saving features such as push-pull fume hoods that provide ample safety in synthetic chemistry experiments, as well as LED lighting, double-glazed windows, and photocatalytic coating on exterior walls.
Overview of the new research complex
Location:
Shizuoka, Japan
Total floor area:
6,500 m

2

Structure:
Three stories above ground (laboratories and offices for pharmacology research on 1st floor, laboratories and offices for synthetic and medicinal chemistry research on 2nd and 3rd floors)
Groundbreaking:
August 2012
Completion:
October 2013
Approximate cost:
¥3 billion
Number of personnel:
Approximately 150
Start of utilization:
October 25, 2013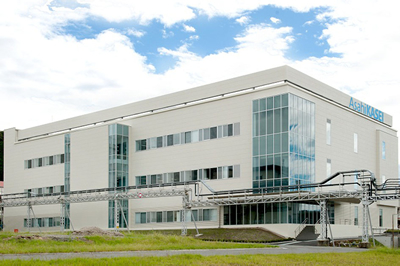 The new research complex