Dr. Akira Yoshino awarded the Charles Stark Draper Prize
February 20, 2014
Asahi Kasei Corp.
Asahi Kasei Fellow Dr. Akira Yoshino, inventor of the lithium-ion battery (LIB), received the Charles Stark Draper Prize from the US National Academy of Engineering.
The 2014 Charles Stark Draper Prize Dinner and Ceremony was held on February 18, 2014, in Washington, D.C. (February 19 in Japan) at the National Academy of Sciences. Together with co-recipients John Goodenough, Yoshio Nishi, and Rachid Yazami, the prize recognized Dr. Yoshino "for engineering the rechargeable lithium-ion battery that enables compact, lightweight mobile devices."
"I'm deeply honored to receive such a prestigious prize," said Dr. Yoshino. "I'm proud that research on the LIB contributed greatly to the spread of laptop computers and mobile phones, and now electric vehicles, too. I believe that this recognition of the LIB will encourage battery researchers to make even more progress. The IT Revolution which continues today began in 1995. Since then, everything has changed dramatically. I expect the next revolution to happen in the near future, in the field of the environment and energy. The world of ten, twenty, or fifty years from now will probably seem like a sci-fi film to us. I feel a responsibility for the LIB to play a major role in solving the world's energy problems, and will continue to work on innovative new technology which will benefit the people in the world."
About the Charles Stark Draper Prize
The Charles Stark Draper Prize is awarded annually by the US National Academy of Engineering to people who made outstanding contributions to engineering. It has been called the Nobel Prize of Engineering. Dr. Yoshino is the second Japanese recipient of the prize, following last year.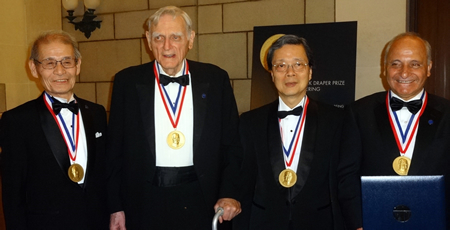 Dr. Akira Yoshino (left), together with co-recipients of the Charles Stark
Draper Prize, John Goodenough, Yoshio Nishi, and Rachid Yazami
Related link