Interview
Kid Blue designer Yoko Hirano speaks about the overarching goal of "comfort" and how high-quality items are born from a thorough refusal to compromise.
Kid Blue celebrates its 40th anniversary in 2019. We asked designer Hirano (photo left) and PR manager Saito (photo right) about what they consider important in manufacturing and what the future holds.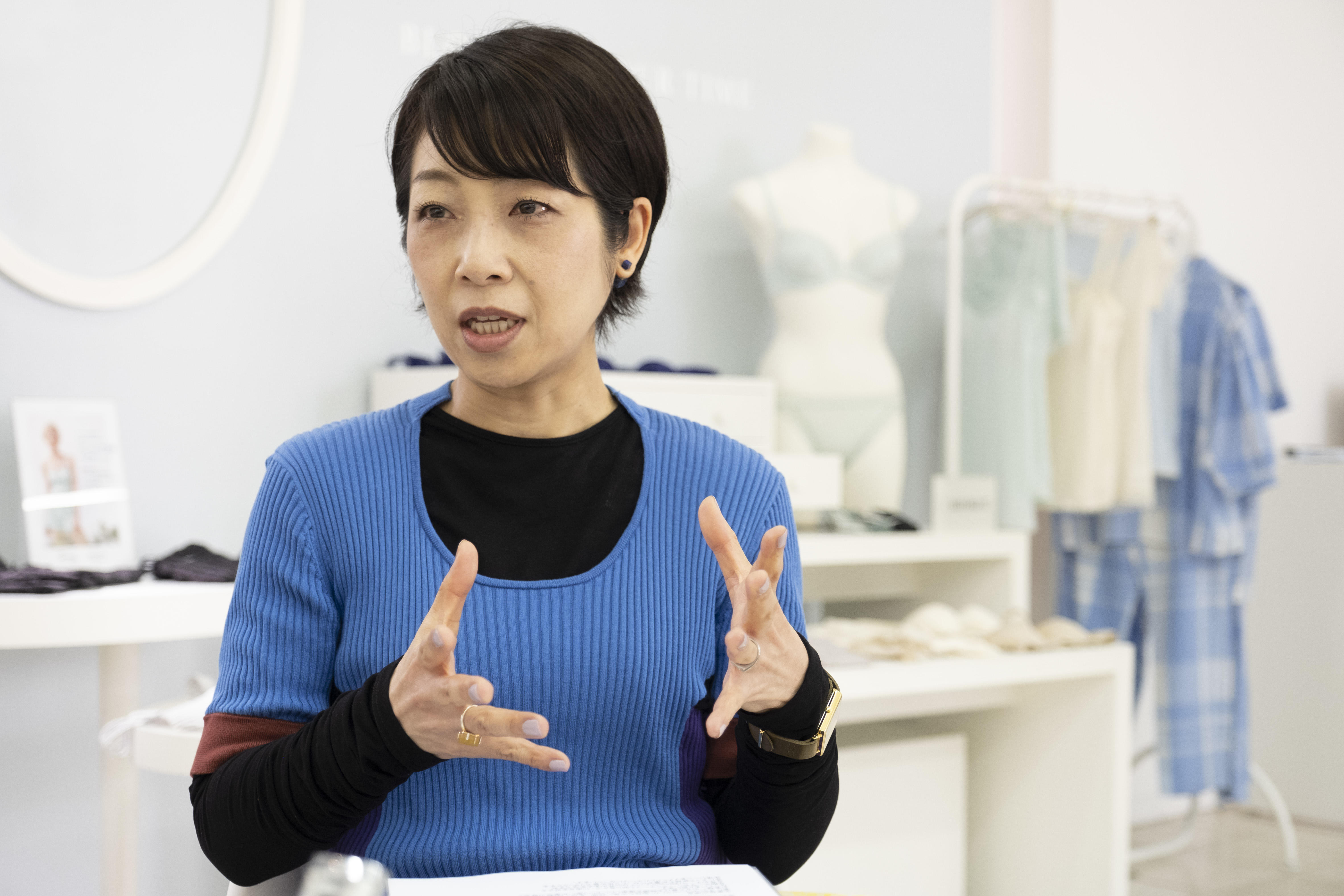 It all started with "pleasant time, pleasant space" Hirano: Kid Blue began as an atelier founded by three women. It started with fashion accessories, mainly hats, and then branched out to outerwear. They got a good reputation for using leftover lace fabric to make camisoles and panties, which led them to start doing innerwear as well and Kid Blue was launched as a full-fledged brand in 1979. This year, it's 40 years since the brand was born. The brand concept is "pleasant time, pleasant space." We make products using original textiles and are really particular about a high-quality feel and comfort, which allows us to offer adult women who enjoy lifestyles that suit them moments where they can truly unwind. I started working here in 1995, and am currently in charge of the Kid Blue Product Department and group leader of the Design Group. I review everything from ideas for exhibitions to the details of product composition, material position, and template configuration, and make decisions about quantity planning together with the MD. I mainly work with the manufacturing, but am involved in all the processes until our products reach the stores.

Saito: I'm in charge of PR.

Hirano: When it comes to product planning, my foremost concern is that we achieve a pleasant material feel in line with the concept. Also when deciding on the theme of the year, I make sure to go back to the brand concept that is our starting point and take care to visualize a comfortable lifestyle for our customers.
For this 40th-anniversary spring/summer of 2019, we have the theme "Blooming Your Time: Living with Flowers." A life with flowers that enriches your emotional life and whose fragrance can help you relax. That's the kind of life scenes I visualized. We'll obviously have floral patterns, but we also arrange frills inspired by flower details as well as striped and checkered textiles inspired by flower vases.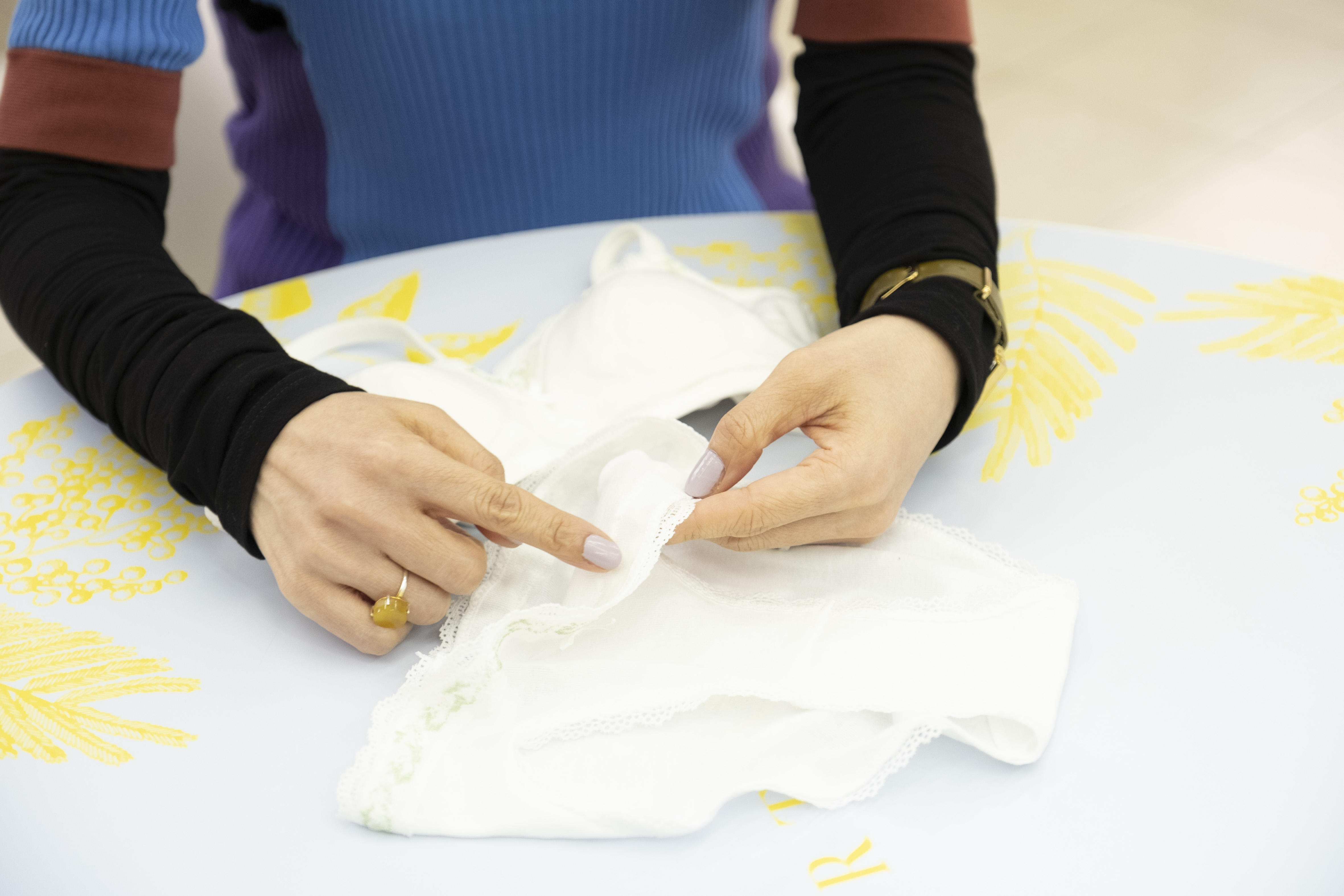 In pursuit of comfort and high quality Hirano: ooking back at everything up until this point from the perspective of manufacturing, I feel that we've been really blessed with such cooperative suppliers. Many of them are very motivated to make new things. For example, we made some of our lace from a cotton blend. It became a fresh endeavor for the lace maker to think about how to pursue an expression that says Kid Blue with a higher synthetic fiber blend rate. When we place an order for a new and original pattern, it's unlikely to be enough for the maker's economic lot, but they tells us "We get to try new things in in-house development when making things with Kid Blue" and "We're grateful since it leads to future business." These things stack up, and I think what we have now was made possible because we continued to manufacture things in this way.
When pursuing comfort, I give thought to how it will feel on the skin and keep improving sewing specifications and name tags. That's because many of Kid Blue's customers today are in their 40s and 50s, and people's skin tends to become more delicate with age, so we see a growing demand for this. I also take seriously feedback from the sales staff in the stores, and when I heard "Many customers who choose 100% cotton products avoid products with lace," this resulted in products designed so that the lace overlaps with the fabric and contact with the skin is minimized.
Also when it comes to product quality, it's not just how good the material is, but good sewing technique is indispensable. Quadrille Nishida, which is Kid Blue's parent company, has long worked with innerwear OEM, and has factories in China and Vietnam. This is a bit of self-flattery, but they are extremely wonderful factories and I'm confident they are part of the reason for the high-quality innerwear. We tell our customers "made in Quadrille" with pride.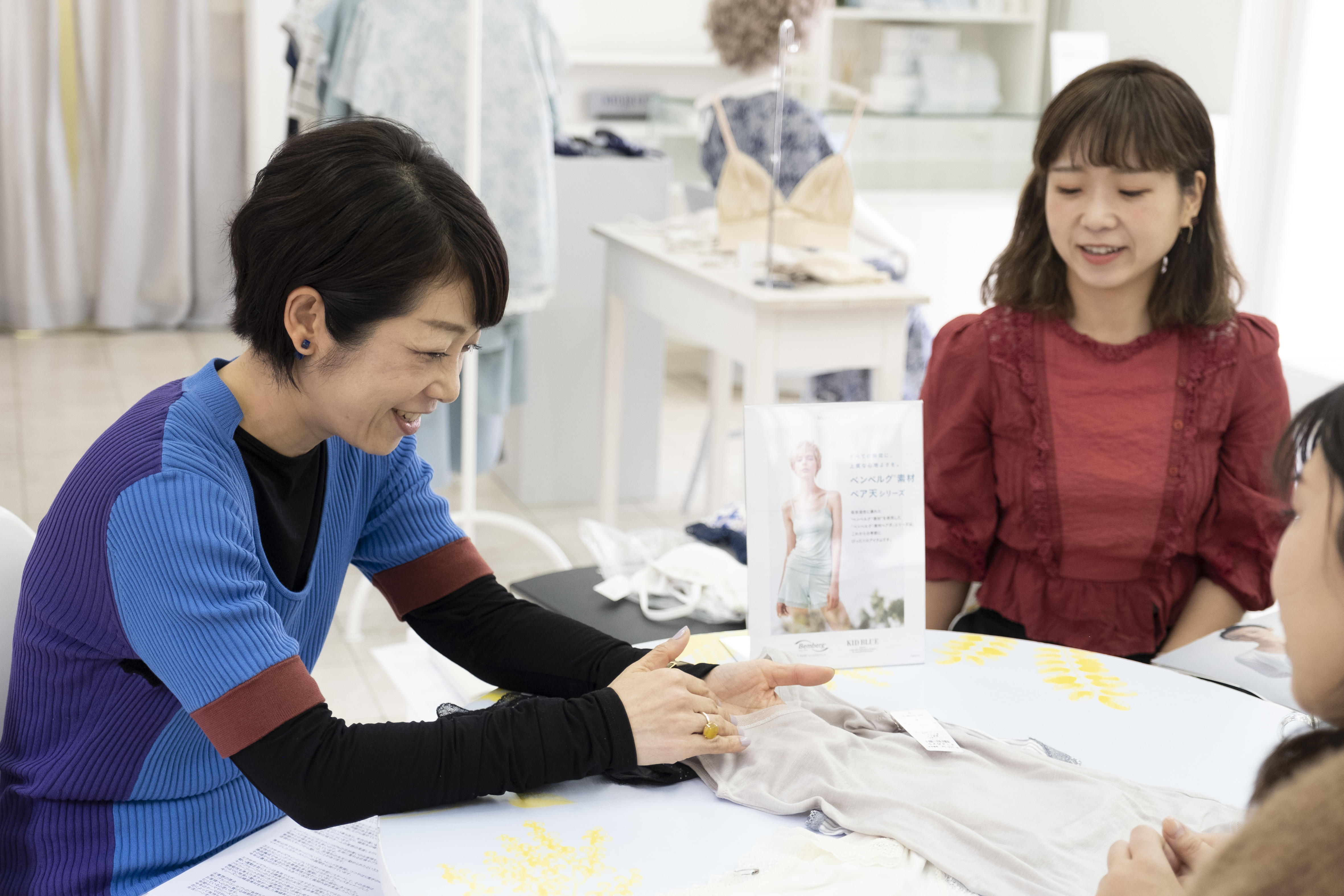 Reasons behind the success of the Bemberg Spandex Jersey Series Hirano: One material that Kid Blue can't do without anymore is "Bemberg Spandex Jersey." We first used it in 1997. At the time, Kid Blue was one of the first to take an elastic material called "spandex cotton jersey," which was rarely used for innerwear, and make it a staple. The only problem was that spandex cotton jersey didn't have a drape feel and couldn't be made into slips, so we looked for a material with a smooth quality. After many twists and turns, we encountered Bemberg and started using it because we thought it could express lingerie in a Kid Blue fashion. It felt "pleasant" just by touching it, so we initially didn't do any PR about the raw materials or its functions.
Later, starting from 2012, we've sold a Bemberg Spandex Jersey Series repeatedly every year. In 2014, we put up the slogan "More pleasant than cotton" on our storefront, and this really changed how it was sold in stores and how customers reacted. Until then, many customers with the clear intention of "I want 100% cotton products" would skip Bemberg because they'd touch it and think it's synthetic fiber, but this slogan got their interest. Then, when the staff explains that "It's a material made from a part of the cotton flower and that has excellent absorption and desorption properties," this significantly increased the purchase rate. It's a material that you definitely feel the benefits of if you wear it in summer, so we can recommend it with confidence.

Saito: At present, it's a mainstay of Kid Blue's sales throughout the year since we have a broad item range and large quantities, and they have a long sales period. We have many customers buying color variations and coming back for more. It's such an important material that we always take the time to talk about Bemberg at staff training sessions every year, to ensure that the sales staff can properly convey its benefits to customers.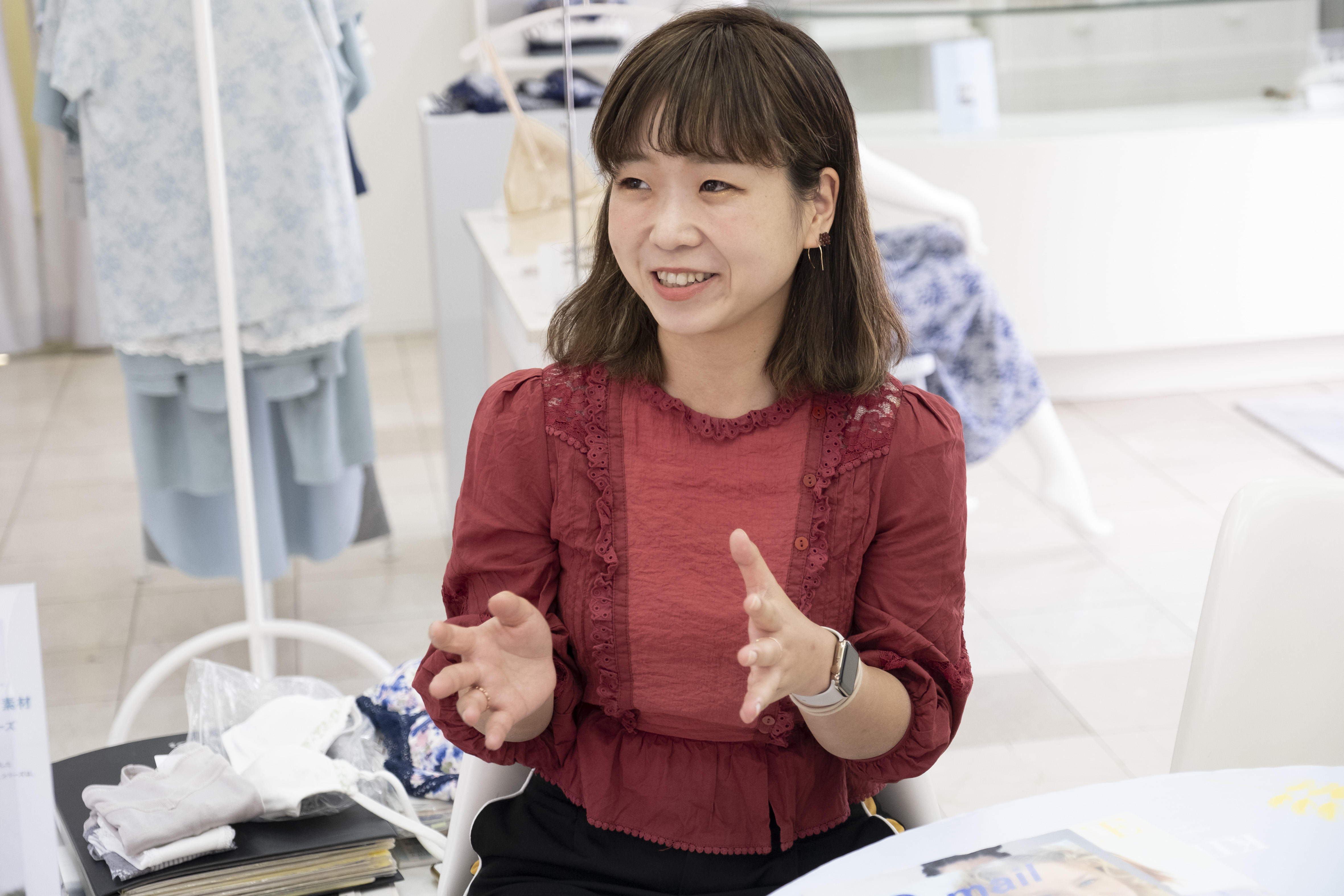 Communicating the worldview of a lifestyle brand Hirano: In the future, I hope we can convey the brand's worldview more. As things are now, I feel that the limited spaces of department-store sales floors are slightly insufficient for communicating our overall worldview, including the themes for our exhibitions, our product lineups, and narrative elements. Moreover, although we have men's and kids' brands that use the same textiles as Kid Blue, not even our long-time customers are particularly aware of this. We used to have an exercise line, nightwear, casual clothes, maternity clothes, and even accessories, but we had no choice but to reduce our range because of changes in the sales environment.
So I'm hoping that we can make product plans, develop a sales environment, and in particular fully utilize our directly managed store in Daikanyama in order for us to communicate our worldview as a lifestyle brand. Eventually, the goal is for our customers to comfortably enjoy Kid Blue in all kinds of everyday situations.

Saito:We are truly fortunate to have customers that have supported Kid Blue for so long, but we came to depend on their affection and for some time neglected reaching out to those who don't know about Kid Blue yet. I want to take advantage of this 40th anniversary to properly promote Kid Blue to people in their 20s and 30s, saying that "We're a lifestyle brand that care about our materials." I personally love our Kid Blue products and am confident that others will like them too if they try them on, so my desire is generally to create more opportunities for people to find out about them.
Yoko Hirano
Group leader, Design Group, Kid Blue, Quadrille International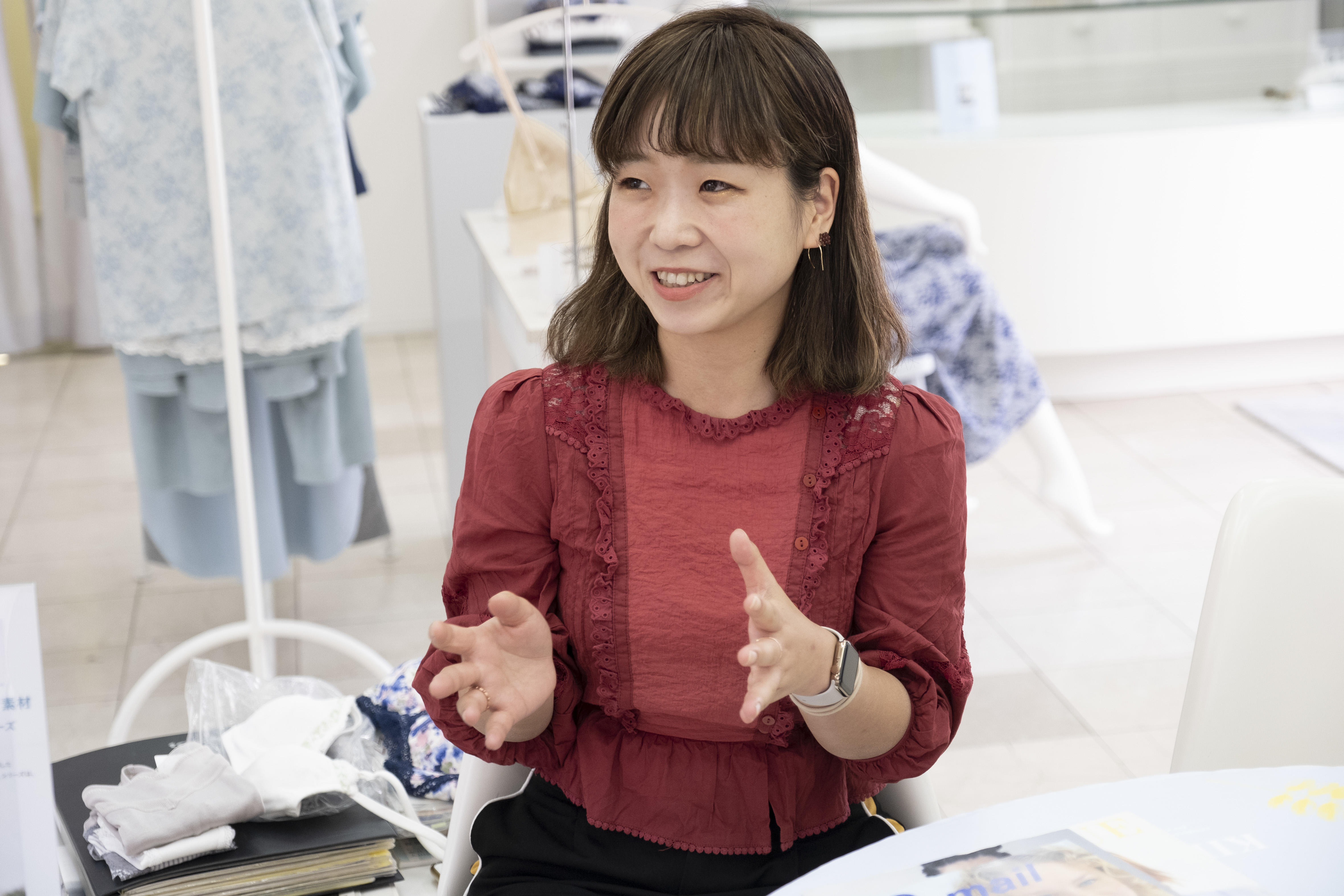 Yo Saito
PR, Kid Blue, Quadrille International