News
Interview with Tatsuji Kobayashi, President and CEO of L.TOP CO., LTD.
The functionality of Bemberg™ and the unique expressive properties of yarn dyeing produce lining unlike anything else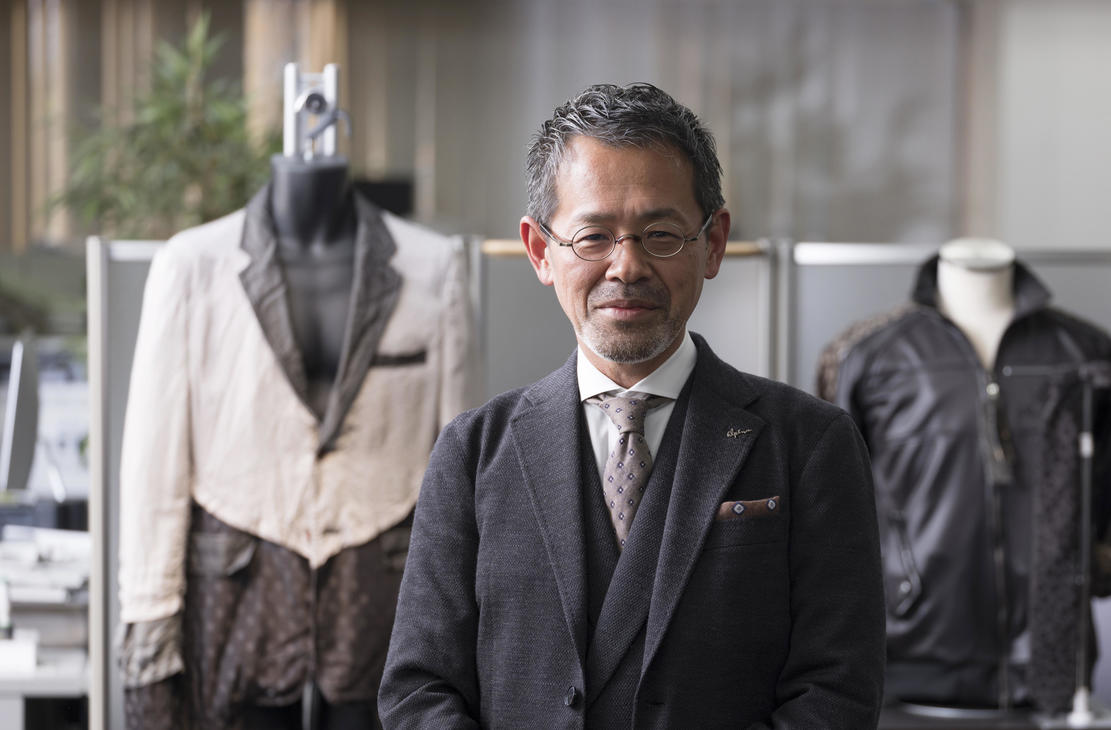 L.TOP sells its own brand of yarn-dyed Bemberg lining fabric under the name Loisir. We spoke with President and CEO Tatsuji Kobayashi, who handled the design of the lining fabric himself, about the appeal of yarn dyed woven fabrics, his thoughts on Fujiyoshida (Yamanashi prefecture) as a production area, and men's fashion.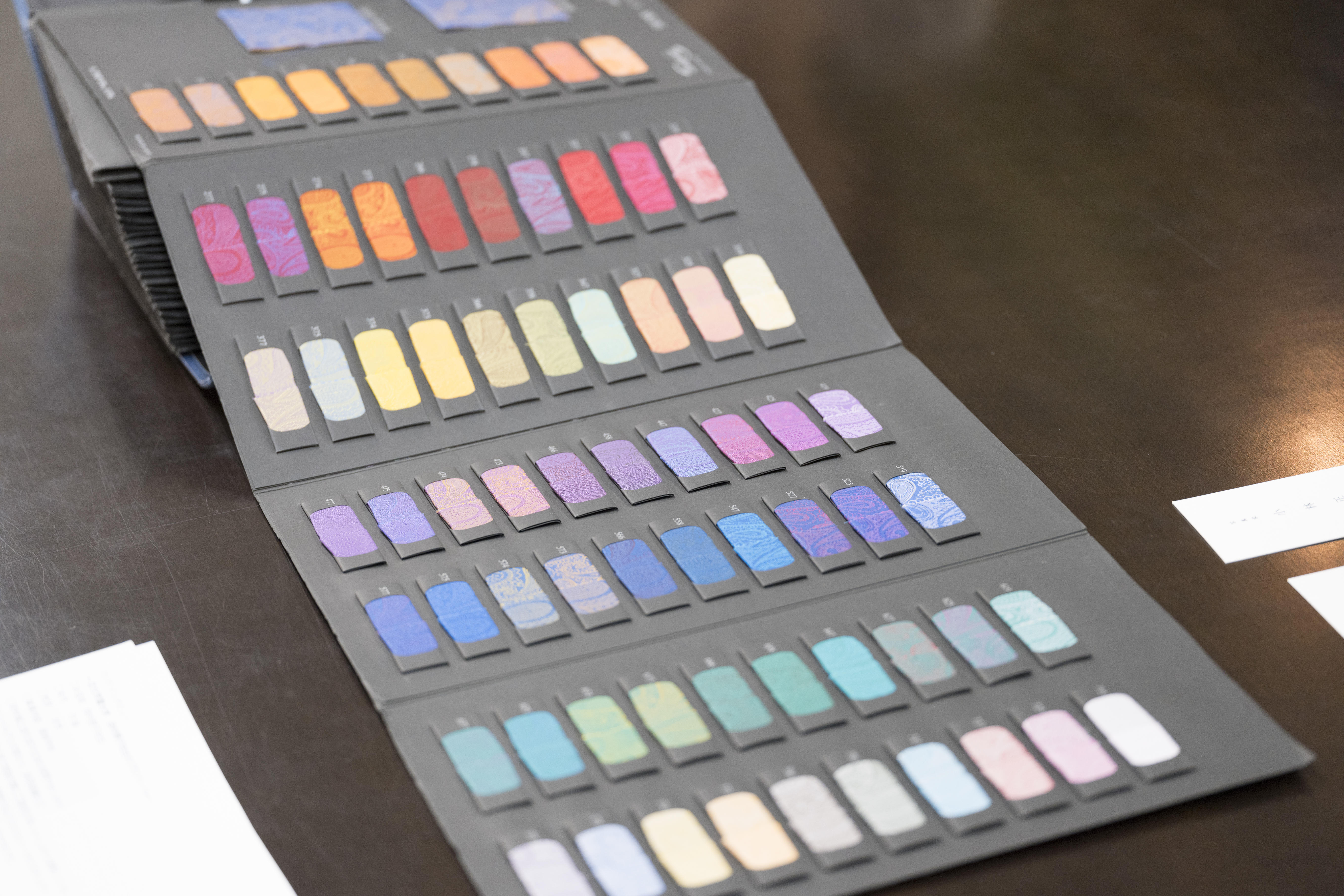 Developing Loisir as a lining brand We plan, manufacture and sell yarn-dyed Bemberg lining, for the likes of collection-driven brands, clothing manufacturers and specialist boutiques in Japan and abroad. Yarn dyeing is a technique whereby vertical and horizontal yarns (known as "warp" and "weft" respectively) are dyed before being woven together. Although this method requires more time and effort than piece dyeing, where the fabric is dyed after being woven, it opens up a wide range of expressions, including stripes, checks and intricate jacquard patterns.

I was keen to make the most of what yarn dyeing has to offer, and came up with these colorful jacquard linings as a result (photo). Our employees were concerned that we might struggle to sell such flamboyant designs. Even the artisan weavers we asked to make the linings were surprised and checked to make sure we wanted to go ahead! It definitely paid off in the end though. The target market I had in mind was individuals who have clothing made to order. If someone is going to the trouble of having clothing made to order, they're looking for something different, so I was confident they would be interested in a product like this. It turns out I was spot on! As a result, these are now our best selling items. Although to be honest, between you and me, I prefer a more classical, un-patterned style myself…!
We market Bemberg lining that has been yarn-dyed in this manner under the brand Loisir. Although it is most commonly used for menswear, ladies' clothing also accounts for around 35-40% of our sales. For ladies' clothing, it is also used as an outer material, as well as lining.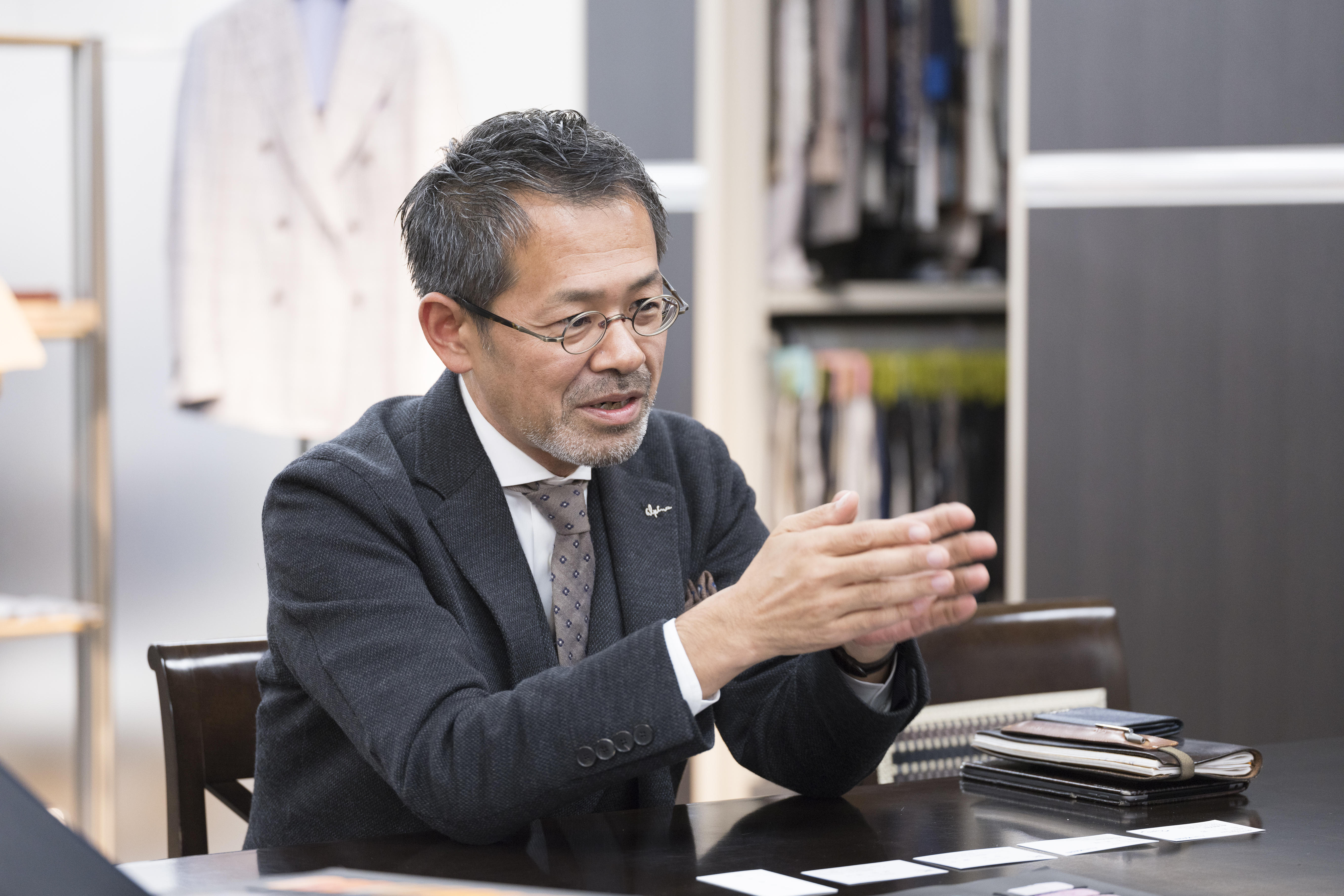 Making people aware of the outstanding craftsmanship that goes into yarn-dyed fabrics It is incredibly difficult to weave Bemberg into fabric using the yarn dyeing technique, because it is so delicate. As Bemberg is produced in Fujiyoshida, in Yamanashi prefecture, we have set up our own production and distribution center there too, so that we can stay in close communication.

There are a number of different processes involved in production, most of which are carried out separately.
The first process is twisting, which involves twisting strands of yarn together before it is dyed. The twisted yarn is then dyed a specified color. The next step is a process called "warping," where the vertical warp yarns are lined up according to the required pattern. Although this is done by machine, it requires a high level of craftsmanship to operate the machine itself. If even one thread is out of place, the gaps won't line up, and that could end up ruining a 1,000-meter roll of fabric. The yarn is then woven on a loom. It might sound straight-forward when explained like that, but even with a simple pattern, it is only possible to produce 50 meters a day. With a more elaborate pattern, that comes down to just 25 meters a day.
We're keen to show people each of these individual processes. That's why we regularly organize tours around the local production area for our customers. By getting them to focus on the artisans, whose work usually remains hidden from view, we are able to communicate to our customers just how much effort goes into carefully crafting our products. I think the artisans themselves also like it when we show off their work to lots of people like that.

There are plenty of other processes at a more detailed level, in addition to the ones I have mentioned here, and there are dedicated artisans behind each of those processes. If any link in that chain were to be taken out, we wouldn't be able to produce the finished fabric. I would love it if one of our tours were to inspire a young artisan to take up one of these crafts, or to inspire someone who might have been thinking of closing down their business to hand over the reins to their son or daughter instead. I want to do anything I can to help preserve traditions like these.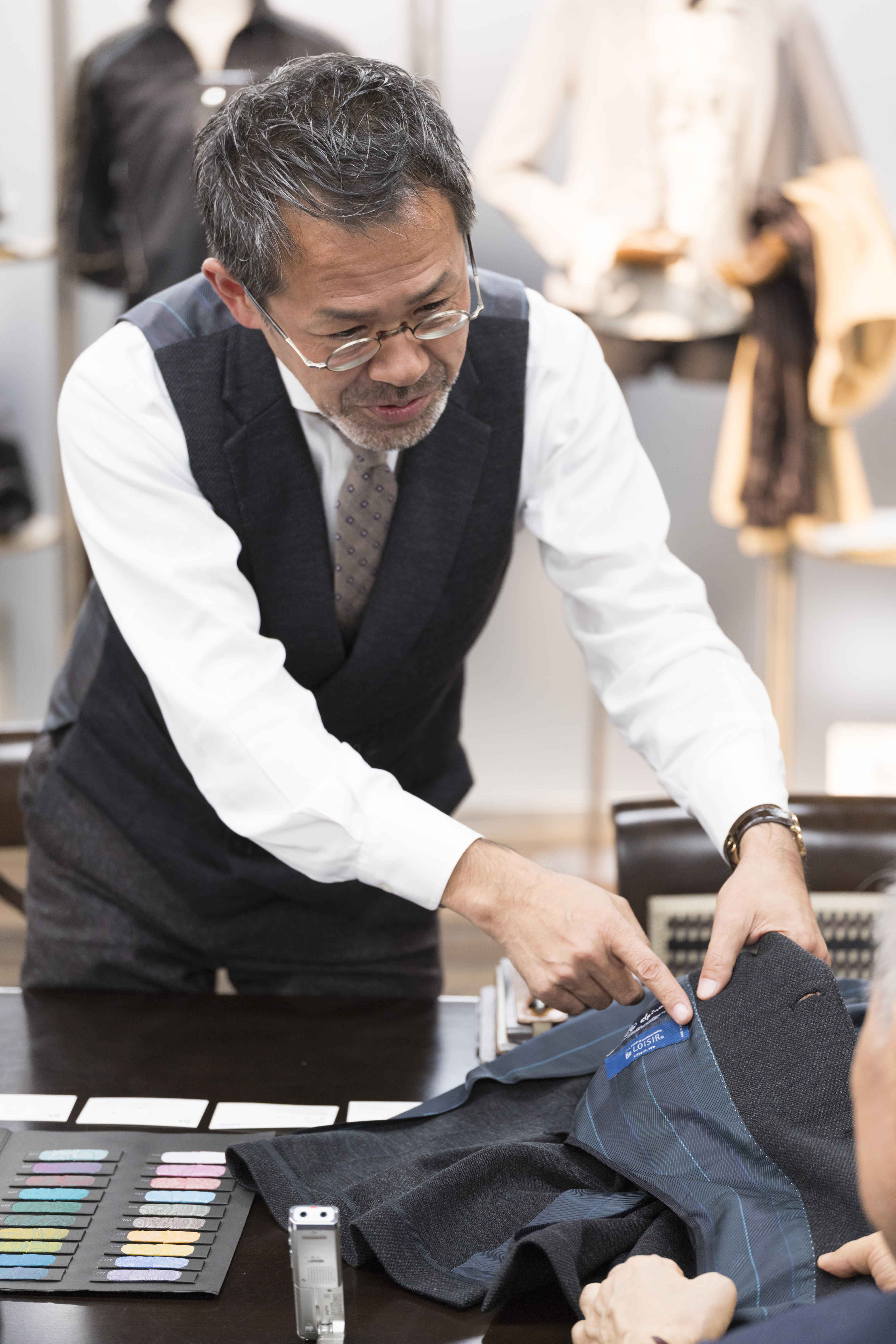 Lining needs to be easy to put on and take off, and comfortable to wear With all this time and effort going into production, it is unsurprising that this also means higher costs. Nonetheless, there are lots of people who have continued to choose Loisir products over many years.

At the risk of repeating myself, I think that one of the reasons why people choose our products is that yarn-dyeing makes it possible to produce such uniquely rich colors and patterns.
Another key strength is that we use threads made by twisting two fine yarns together, known as "2ply yarn." This enables us to produce fabrics that have a more robust, quality finish. While using 2ply yarn is common practice for outer materials, Loisir is the only brand that uses such yarn as standard for lining.

The one crucial factor is that the material has to be Bemberg. Many of our customers are well aware of the quality of Bemberg. It is used in some world-famous international brands too, all of whom use it based on a genuine understanding of the material.

Simply stated, the lining is attached to make clothing easy to put on, easy to take off, and feel comfortable while you're wearing it. Bemberg lining slips on easily, and is less susceptible to static electricity, which makes clothing easier to take off. Its moisture absorption and release capabilities meanwhile make clothing comfortable to wear. Bemberg really is an outstanding material unlike anything else. I truly believe that.

When we combine the outstanding functionality of Bemberg with added value courtesy of the expressive capabilities of yarn dyeing, the end result is our Loisir brand.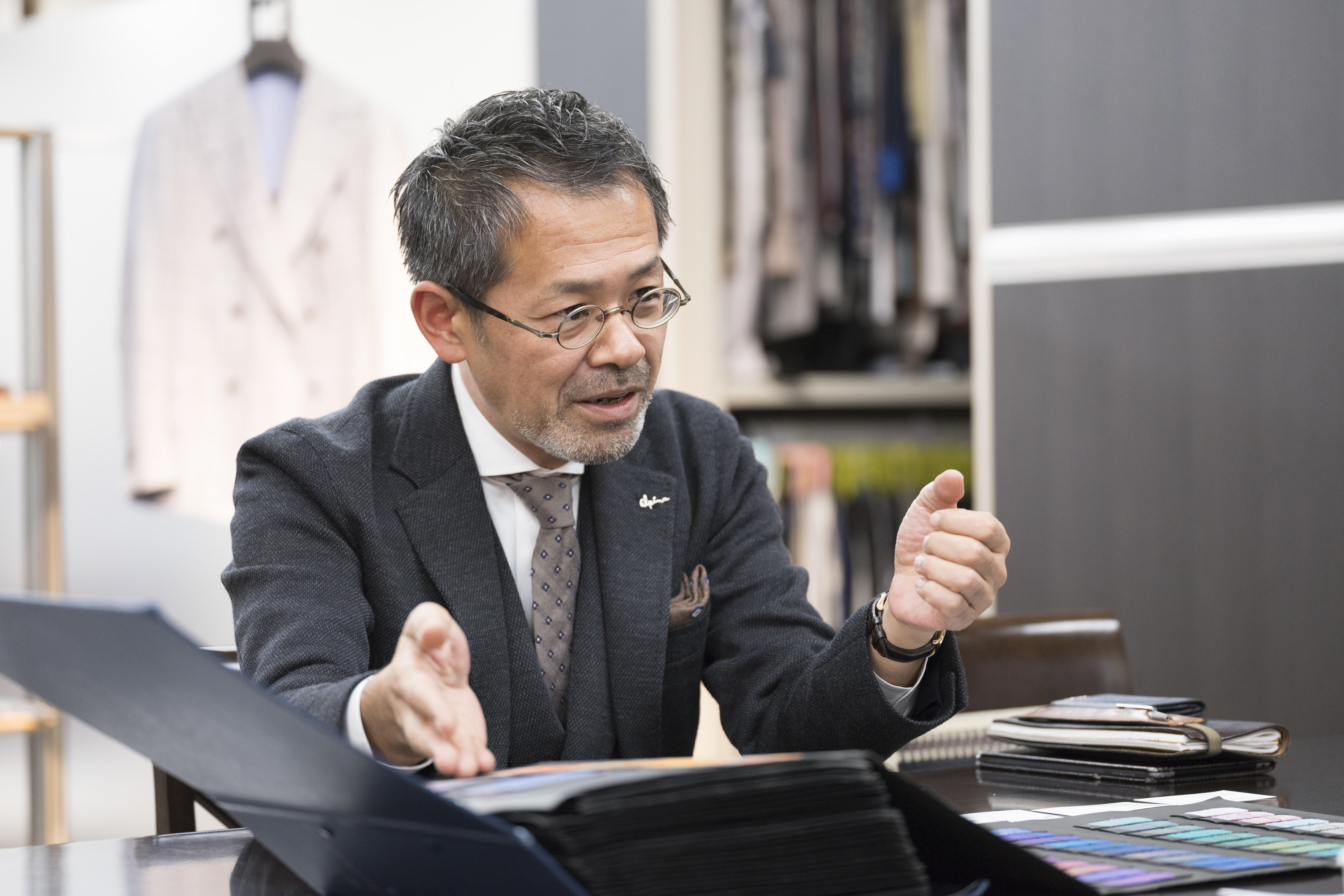 Producing lining that will become the first choice of end users We decided to create a lining brand because we wanted to establish that brand as the first choice for end users.
After thinking about ways to showcase Loisir more effectively to end users, in 2015 we launched our own brand of jackets called Alpino. In fact, I am wearing an Alpino jacket right now. Having made sure that the jackets are comfortable, and paid particular attention to their outline, we are proud of the end result. Needless to say the lining is Loisir. There is even a tag that says so on the inside. At present, we are only producing one pattern for each season, and the jackets are only available on our website. Even so, they are selling well, and we have actually sold out of some sizes. We have had an unexpected number of young people buying them, and are getting repeat customers too.

I suspect that most men regard clothing as a sort of uniform that they wear to go to work. I'd love people to get more enjoyment out of wearing fashionable clothes however. Rather than thinking "anything will do," if you branch out a bit more, put a little more care into your appearance on a daily basis, and own a set of clothes that make you feel more confident in front of other people, I'm sure you will feel better on the inside too. That's the thinking behind Loisir as a brand. The name Loisir is French for "leisure." While you can take that to simply mean "free time," I prefer to think of it in terms of taking things leisurely and leading a richer life.
Tatsuji Kobayashi, President & CEO L.TOP CO., LTD.
President and CEO of L.TOP CO., LTD., Tatsuji Kobayashi graduated from Gakushuin University and was appointed as a director at the company in November 1993. He was promoted to his current position in June 2012. That same year, he set up a production area tour as part of the Loisir branding for Bemberg yarn-dyed lining, with the aim of raising the profile of the Fujiyoshida area. As a result, around 400 students and individuals from the clothing industry have already undergone training. Kobayashi began rolling out the Alpino jacket brand in 2015, in an effort to showcase the appeal of yarn-dyed lining directly to end users.