Technical Information elastomer
Use in elastomer applications
Use of DURANOL™ allows you to obtain thermoplastic and thermosetting elastomer and resin with excellent chemical resistance, abrasion resistance, and flexibility. DURANOL™ is used in a wide range of fields such as various rollers, rolls, belts, sealing, and gaskets.
Flexibility of DURANOL™
Generally, although PCD polyurethane tends to lack flexibility, use of liquid type DURANOL™ allows improvement of flexibility.

Tensile test of polyurethane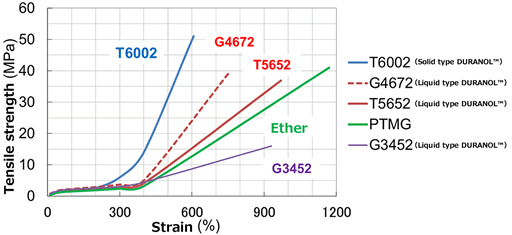 [Measurement condition]
Polyurethane formulation: MDI / Polyol / 1, 4 - BDO = 2 / 1 / 1
Condition: According to JIS K7311
Test piece: 2 mm × 60 mm strip
Measuring instrument: TENSILON tensile testing machine
Heat resistance of DURANOL™
PCD polyurethanes show high strength retention even after storage at a high temperature.

Change in the property of a polyurethane film stored at 120°C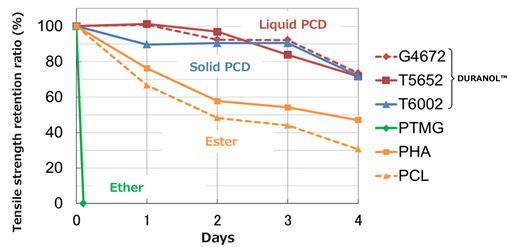 [Polyurethane formulation] H12MDI/Polyol/IPDA=2/1/1
Hydrolysis resistance of DURANOL™
It can be seen that PCD polyurethanes are hard to decompose when compared to polyether urethanes and polyester urethanes.

Change in the molecular weight of a polyurethane film immersed in hot water at a temperature of 100°C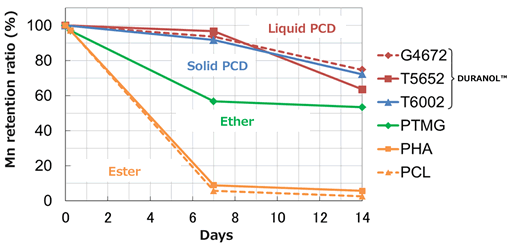 [Polyurethane formulation] MDI/Polyol/1,4-BDO=2/1/1
Compatibility of DURANOL™ and other polyols
Generally, DURANOL™ has a good compatibility with polyester polyols.
In the case of acrylic polyols, the compatibility depends on their types.
Polyol
PCD
Polyol:PCD
9 : 1
7 : 3
5 : 5
3 : 7
1 : 9
Polybutylene adipate
(Polyester polyol)
T5650J
T5652
G4672
G3452
T4692
Acrylic polyol
T5650J
T5652
G4672
Polytetramethylene glycol
(Polyether polyol)
T5650J
T5652
G4672
[Judgment]

: Transparent,

: Uniform but with turbidity,

: Separation (Temperature: 60±3°C)
Temperature dependence of the viscosity of DURANOL™
[Viscometric measurement] Type B viscometer: HM2