HOME
> Technical Information
Technical Information
All test data and values shown in this website are based on typical laboratory tests by the indicated test methods, presented for basic reference only and not as any specification or warranty, and subject to change without notice.
Polyurethane properties of polyols
The table below shows qualitative comparison of the impact of polyols on polyurethane. Although PCD offers excellent durability, hydrolysis resistance, and chemical resistance when compared to other polyols, its flexibility is inferior to that of the polyols.
Our PCD, DURANOL™ maintains the features of PCD as described above and offers improved flexibility.

DURANOL™
C5C6 Copolymer
PCD
C6 Homopolymer
PCL
PHA
PTMG
Heat stability
Excellent
Excellent
Good
Good
Poor
weatherability
Excellent
Excellent
Good
Good
Poor
Softness
Good
Poor
Good
Good
Excellent
Hydrolysis resistance
Excellent
Excellent
Fair
Poor
Good
Fungus resistance
Fair or Good
Fair or Good
Poor
Poor
Excellent
Oleic acid resistance
Good
Good
Poor or Fair
Fair
Poor
Ethanol resistance
Good
Good
Poor
Fair
Poor
Compatibility of DURANOL™ and solvents
Liquid type DURANOL™ (T5652•G4672 and G3452) offers excellent handling property and solvent solubility.
Solubility[wt%] (at 25℃)
Liquid
Solid
T5652
G4672
G3452
T6002
T4692
Toluen
85
85
80
30
8
DMF
85
85
80
20
20
Ethyl acetate
80
80
80
30
10
Acetone
80
80
75
30
20
MEK
90
85
75
40
10
N-octane
<1
<1
<1
<1
<1
Methanol
<1
<1
<1
<1
<1
Iso-propanol
<1
<1
<1
<1
<1
Compatibility of DURANOL™ and other polyols
Generally, DURANOL™ has a good compatibility with polyester polyols.
In the case of acrylic polyols, the compatibility depends on their types.
Polyol
PCD
Polyol:PCD
9 : 1
7 : 3
5 : 5
3 : 7
1 : 9
Polybutylene adipate
(Polyester polyol)
T5650J
T5652
G4672
G3452
T4692
Acrylic polyol
T5650J
T5652
G4672
Polytetramethylene glycol
(Polyether polyol)
T5650J
T5652
G4672
[Judgment]

: Transparent,

: Uniform but with turbidity,

: Separation (Temperature: 60±3°C)
Temperature dependence of the viscosity of DURANOL™
[Viscometric measurement] Type B viscometer: HM2
Flexibility of DURANOL™
Generally, although PCD polyurethane tends to lack flexibility, use of liquid type DURANOL™ allows improvement of flexibility.

(Tensile test of polyurethane)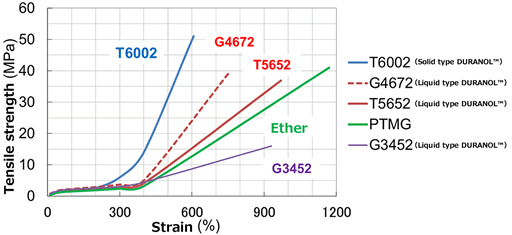 [Measurement condition]
Polyurethane formulation: MDI / Polyol / 1, 4 - BDO = 2 / 1 / 1
Condition: According to JIS K7311
Test piece: 2 mm × 60 mm strip
Measuring instrument: TENSILON tensile testing machine
Hydrolysis resistance of DURANOL™
It can be seen that PCD polyurethanes are hard to decompose when compared to polyether urethanes and polyester urethanes.

(Change in the molecular weight of a polyurethane film immersed in hot water at a temperature of 100°C)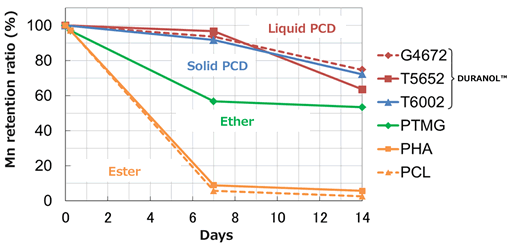 [Polyurethane formulation] MDI/Polyol/1,4-BDO=2/1/1
Heat resistance of DURANOL™
PCD polyurethanes show high strength retention even after storage at a high temperature.

(Change in the property of a polyurethane film stored at 120°C)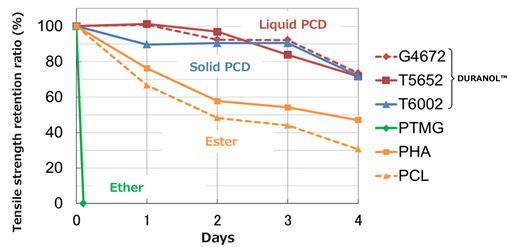 [Polyurethane formulation] H12MDI/Polyol/IPDA=2/1/1
Chemical resistance of DURANOL™
It can be seen that PCD polyurethanes have a smaller swelling rate due to organic solvent when compared to polyether urethanes and polyester urethanes and copolymerized type DURANOL™ has an excellent swelling rate in particular.

(Change in the property of a polyurethane film immersed in oleic acid (23°C) for 1 week)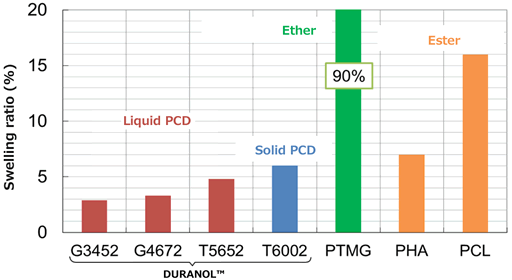 [Polyurethane formulation] MDI/Polyol/1,4-BDO=2/1/1
Abrasion resistance of DURANOL™
PCD two-component polyurethane paint offers excellent Abrasion resistance of the paint film.

(Abrasion resistance of two-component polyurethane paint)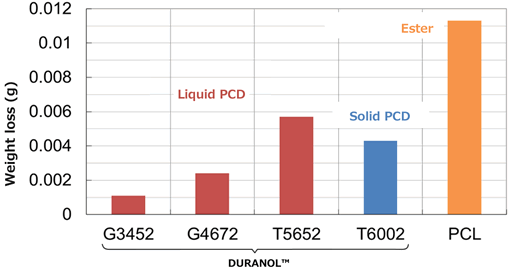 [Measurement condition]
Coating formulation : Polyol/DURANATE™[TPA-100]/Solvent/DBTDL
Cured at 80°C×2hr
Taber abrasion test : 500g, 500 times grinding