Blind
Manufacturer
Manufacturer of Blind is Asahi Kasei Advance Corporation.
We are the provider of the original yarn.
For your contact we may our agent or manufacturer to contact you directly.
Blind
This blind has high flame resistance and suitable light permeableness.
Blind color
We have various kinds of fabrics displayed below Please click on the small image to enlarge it.
Features of blind
Excellent flame resistance
"SHAZAI NENSHI-63-69": Combustion test as railway rolling stock material
Fabric : Saran™
Testing detail:Temperature:25ºC
Relative Humidity :56%RH
Combustion time :81sec.
In Alcohol Burning
After Alcohol Burning
Ignition
2sec.
Afterflame
none
Flame
2sec.
Flameless burning
none
Smoke
little
Carbonization
doesn't reach the edge 38mm
Power of fire
is not exceeded
to the top of fabric
Transformation
doesn't reach the edge 38mm
There was a hole that penetrated partially. 30mm
Detarmination : Flame Resistance
Excellent Durability
This blind is not aged so much, and wrinkle doesn't attach strongly. Moreover ,there is hardly fading because of its good stability against light.
Suitable Light Shielding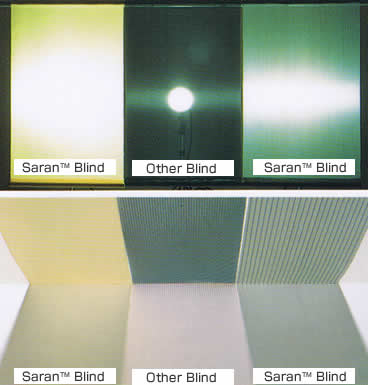 This blind has shading with a moderate material. Dazzling direct sunshine doesn't enter because it need not open the space to take light. This blind softens direct sunshine, makes pleasant surroundings, and, in addition, takes the effect of air-conditioning.

Suitable translucency performance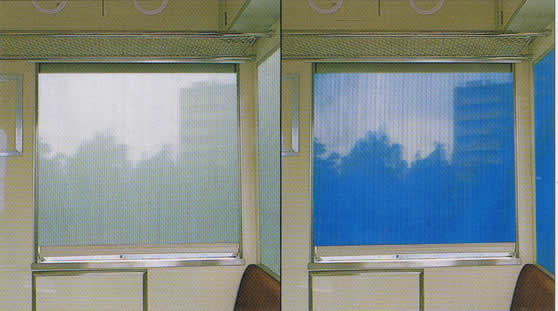 This blind has also light transmission properties, too. It doesn't darken in the train even if this blind has been closed. Moreover, it can enjoy scenery on the outside through the blind.