What is
"Asahi Wrap™"?
Asahi Wrap™ is food wrapping film made of PVDC* premium material for preserving and cooking food.
In fact, the performance of food wrapping film varies significantly depending on the material.
Because it's intended to be used every day, Asahi Wrap™ is carefully designed to make sure it keeps food delicious and fresh.
* Polyvinylidene chloride
**The functions and the film itself are the same as the Japanese "Saran Wrap®".
Selling Points
No.1 seller in Japan*
*Source : INTAGE SRI Data (CY2019)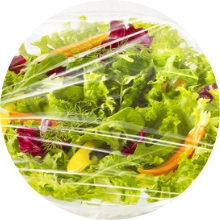 Highly functional PVDC film
Meets,
・Japan's Food Sanitation Act
・Commission Regulation (EU)
 No 10/2011
・21CFR (by FDA)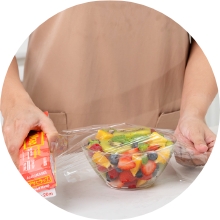 Easy-to-use packaging
Product Features
PVDC film
Keeps food fresh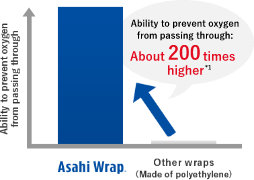 Prevents oxygen gas from passing through, keeping food fresh
That
means…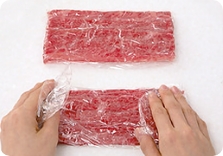 It prevents meat, etc. from getting oxidized,
so it stays fresh!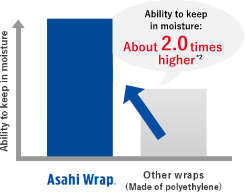 High ability to keep in moisture
That
means…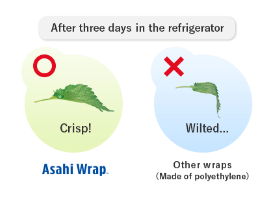 It helps fish and vegetables retain their moisture and stay fresh
*1 From a comparison of oxygen gas permeability(In-house method)
*2 From a comparison of moisture permeability(In-house method)
Can even be used in the microwave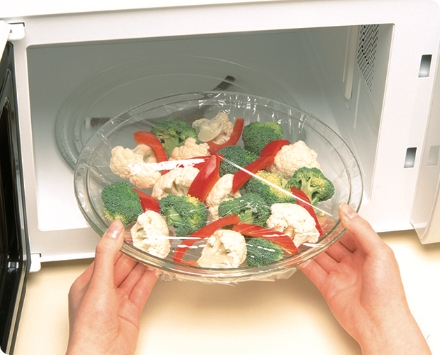 Asahi Wrap™ can be used for everything from freezer storage to microwave cooking.
(Range: from the -60℃ cold-resistance temperature to the 140℃ heat-resistance temperature)
Follow the precautions when using it.

Prevents smells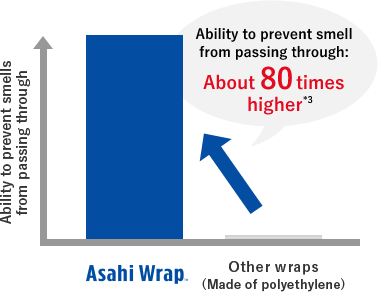 High ability to prevent smells from passing through
That
means…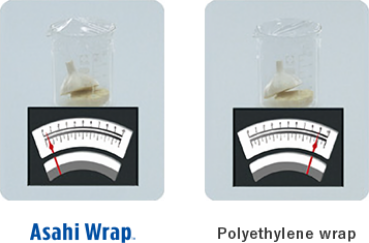 It prevents smells from transferring to other food,
so the refrigerator won't smell
*3 From a comparison of the permeability of diallyl disulfide, the source of odors such as garlic (Storage temperature 25℃)
(This is an example of our research and measurement results by in-house method)
Great firmness and tension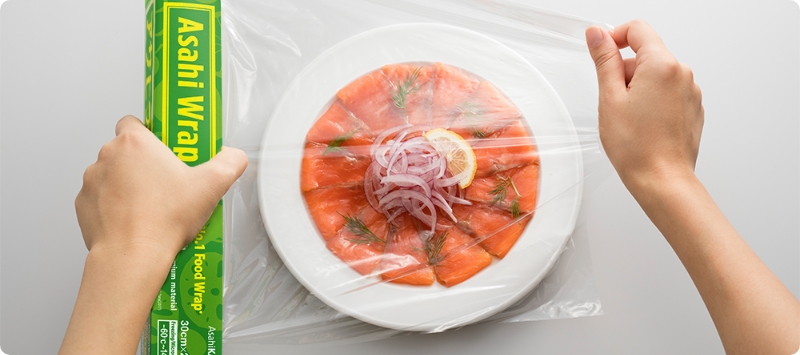 Asahi Wrap™ is a durable wrap with great firmness and tension. The film is easy to handle when pulling it out or putting it over a plate.
Very resistant to salt and acids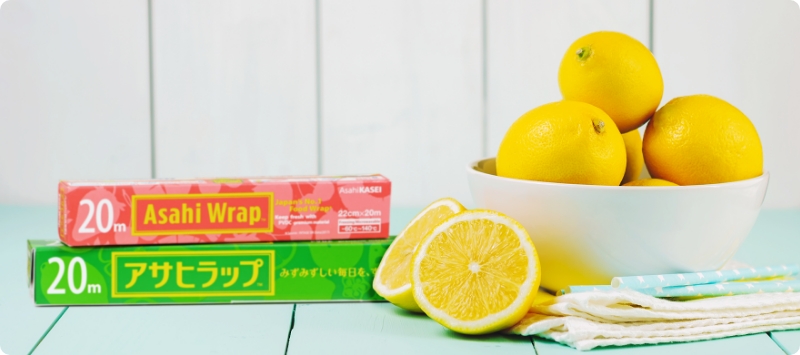 Asahi Wrap™ is very resistant to salt and acids, so it's fine to
use for wrapping things like lemons.

Table showing comparison of performance
by material
*The measurements in this table are typical values at our company, not the specified values.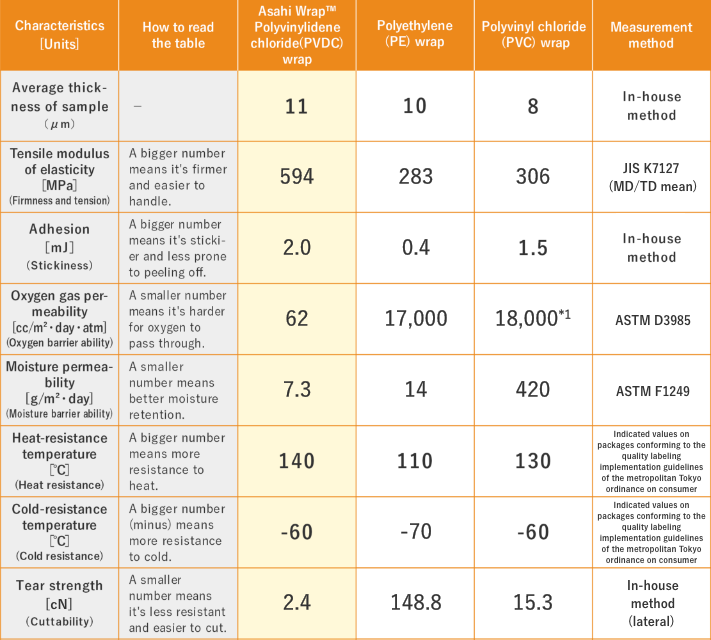 Packaging
The box is designed for ease of use,
so you can cut the film easily.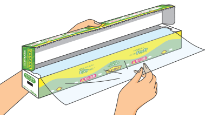 Open the lid wide and hold
the middle of the film.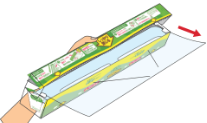 Pull the film straight out.
(Don't pull it out more on the left or
right side,
or let it touch the blade or
packaging.)
Caution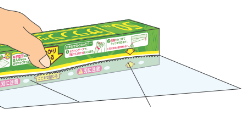 Close the lid firmly.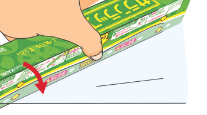 Tilt the packaging inward.
Caution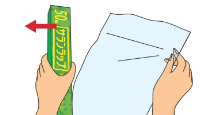 Cut the film
by moving the packaging
from the end of the blade.
Caution
Don't pull it out
while the lid is closed.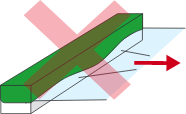 Don't tilt the packaging
outward when cutting the film.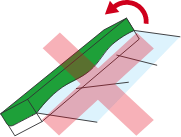 Looking at the package from the side
Tilt
inward

Tilt
outward

Don't pull it out
while the lid is closed.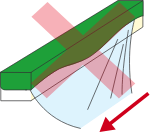 Video: How to cut Asahi Wrap™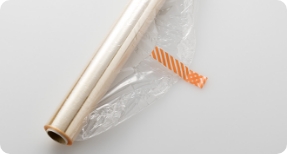 Easy to pull out
The end of the film is folded so you can easily find the place to hold the pull-out tape when you open it. It also means you can pull the film out smoothly the first time.
Tips for use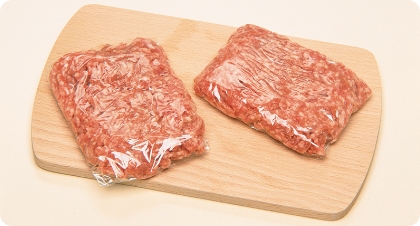 Preserving meat and fish
If you just leave meat or fish in the original trays when you freeze them, they tend to lose their savory components.
Asahi Wrap™ sticks well and doesn't let oxygen or moisture pass through, so wrapping food in it when you put it in the freezer will help it stay delicious. You can wrap individual portions, so it's easy to use, too.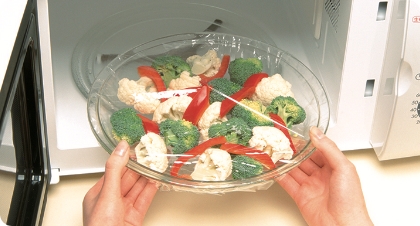 Microwave cooking
Instead of boiling vegetables, you can put them on a plate, cover them with Asahi Wrap™, and cook them in a microwave. This will stop the nutrients from escaping.
Precautions regarding use
When using it in a microwave
1. If covering a plate,
etc. with it then heating

Cover loosely, leaving a little room.If it's tight, it'll split from the pressure of the steam.

2. If wrapping food with directly then heating

Wrap the food so that there's a little room between it and the Asahi Wrap™. Stick the film to itself so none of the food sticks out.

3. If heating oily food

If you heat oily food that's directly wrapped with Asahi Wrap™, it can get very hot and exceed the heat-resistance temperature, causing the film to break or melt. When doing something like this, heat the food in a deep, heat-resistant container.

4. Precautions about after heating

Steam may cause burns after microwave cooking. Therefore, remove the film by holding it at the far side of the container and pulling it toward you.
Don't use an oven (function) / Keep it away from fire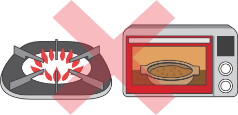 In places that get hot—such as near a gas hob, oven, microwave oven, toaster oven, or stove—the film may melt and stick to itself, or shrink and bend the paper tube (core). As a result, you may no longer be able to pull it out.
Don't use it for anything other than wrapping food
Asahi Wrap™ is designed to be used for preserving and cooking food. Don't use it for any other purpose.
ASAHI KASEI HOME PRODUCTS CORPORATION
International Sales Division, Strategic Markets Marketing & Sales Dept.
Address

1-1-2 Yurakucho, Chiyoda-ku, Tokyo 100-0006, Japan