Feature of wiper
Your benefit
Feature of Bemliese™
Low lint
Save working time
(Reduce the number of rework)

Continuous filament yarn
High absorbency and retention
Reduce the volume of solvent

Pure cellulosic fiber made from cotton
Wiping well
Reduce the volume of wipe and Save working time

Smooth and rounded filamene yarn
Wiper for Aviation is the solution product for
improving productivity and cost saving
in terms of above 3 points.
Low lint
Since Wiper for Aviation is made from a continuous filament, fallen fiber from fabric can be reduced compared with cotton gauze and spunlace.
Our customer can reduce the number of rework or the process of inspection.
The effect is that our customer can save working time and cost.
Fiber release test (Adhesive tape putting method)
1.Cellophane tape pressed on wiper then peeled away
2.Observed for adhering fibers
<Test Method : Asahi Kasei Method>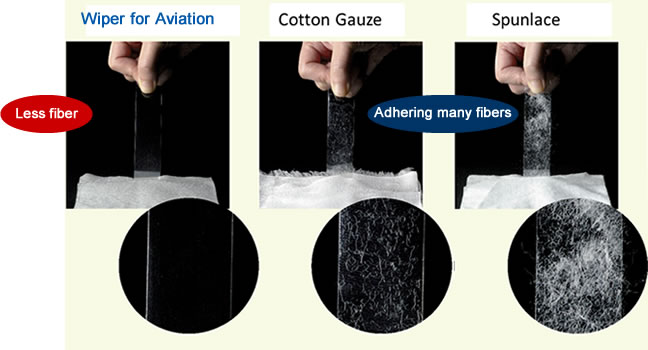 High absorbency and retention
Wiper for Aviation are made from regenerated cellulose nonwoven fabric originating from cotton and its filament structure absorbs water. It has high capacity of absorbing water compared with cotton.
Due to good absorbency retention, our customer can reduce the volume of solvent.
Absorbency ratio test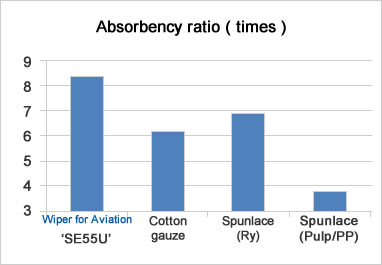 1.A Wiper is soaked in water for 30 seconds,removed and drained off.

2.The difference in weight before and after soaking is measured.

*Absorbency ratio:(weight of wiper after absorption - weigh of wiper before absorption) / weigt of wiper before absorption
<Test Method: Asahi Kasei Method>
Absorbendy and liquid - retention property test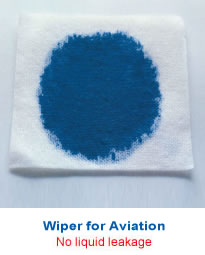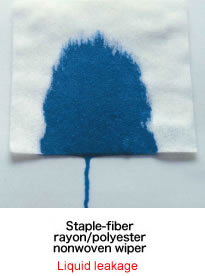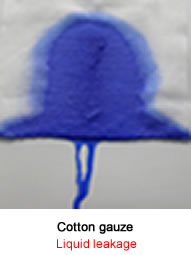 1.Colored water is injected in the center of a sample wiper placed on an inclined snrface(incbnation:45°,amount of injected water : 10ml, duration of injection :15seconds)
2.The condition of liguid diffusion(absorbency)and light leakage(lignid retention property)are compared.
<Test Method: Asahi Kasei Method>
Wiping well
Being composed of continuous filaments having a smooth and round profile,wiper has the performance of good wiping oils and cut powder.
Due to high wiping performance, our customer can reduce the amount of wiper and save the working time.
Wiping off oil test
1.Applying oil with fluorescent paint(10g).wiping off with MEK(4g) throwing UV light (wiper 1g).
2.Check the times as the performance of pick-up well.
<Test Method: Asahi Kasei Method>