The high-performance but also, and above all, sustainable uniform, starting from the athletes' needs to offer them the best solution in terms of style and ergonomics, high performance, easy maintenance and perfect fit, is now available to every sportsman and woman!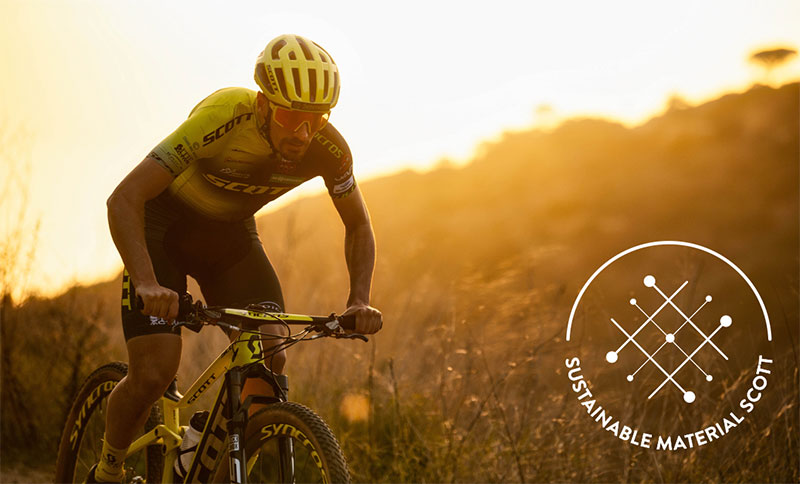 SCOTT Racing Team confirms for the year 2021 its historical partners for the uniform: Rosti, Sitip and ROICA™ by Asahi Kasei, thanks to which it was possible to create the first sustainable biking uniform. A partnership born in 2019 and celebrated at Ispo 2020, which has brought together leading companies for responsible innovation: Rosti for the style and manufacturing, Sitip for technical fabrics made from GRS (Global Recycled Standard) certified recycled yarns including ROICA™ EF, the certified recycled stretch premium ingredient produced by Asahi Kasei.

In addition to the values of sustainability, high performance, breathability, comfort on the skin, shape retention and resistance, ease of maintenance, style and ergonomics, there is now the commercial distribution of the uniform, which finally passes from the team to the end consumer who can purchase it exclusively on the Rosti e-shop.

For the pants, ECO-GRS Blizzard PLX fabric by Sitip has been used, composed of 83% post-consumer recycled polyester and 8% ROICA™ EF, 3% PL- 6% EA, while the t-shirt is created with ECO GRS Bicimania fabric by Sitip, with 95% post-consumer recycled polyester, 3% ROICA™ EF, 2% EA and ECO GRS Pirata fabric by Sitipwith 86% post-consumer recycled polyester and 8% ROICA™ EF, 6% EA.

The uniform and the news of its arrival on the market were presented exclusively to the press on Wednesday 23 June via Zoom. Speakers included Nicola Gavardi, Communication Manager & Pr of Scott, Sergio Alibrandi, Executive Marketing Manager of Sitip, Giusy Bettoni, CEO & Founder of C.L.A.S.S. (Creativity, Lifestyle & Sustainable Synergy), an expert on responsible innovation for the textile and fashion sector, and Stefania Andriola, a iconaclima and meteo.it journalist with a passion for biking. Sports journalist Enrico Maria Corno from Corriere Innovazione moderated. Guest speaker was Juri Ragnoli, the champion rider of the Scott Racing Team.
SCOTT Sports
SCOTT is an international sports brand with a global approach that develops, markets and sells bike, winter sports, running, motorsport and outdoor products. The brand portfolio includes Syncros, Bergamont, Bold Cycles, Avanti, Malvern Star, Dolomite, Powderhorn, Bach, Lizard and Outdoor Research. R&D, marketing and sales are managed from the headquarters in Givisiez, Switzerland. SCOTT employs more than 1500 people worldwide and operates in more than 100 markets. "Innovation - Technology - Design" is SCOTT's Mission Statement, expressing exactly what SCOTT Sports' products stand for.
SITIP is an Italian company specialized in the production of technical fabrics. The company distinguishes its offer through two main divisions: one that produces warp-knitted technical fabrics for industrial applications and one dedicated to the world of sportswear, which focuses on the production of stretch fabrics. Three main types of production: hook-receptive fabrics, that is, for mechanical closures for technical-industrial applications; technical fabrics and supports for lamination and coating intended for industry; stretch fabrics for sport and leisure. The application markets are the most different, including orthopedics, personal care, abrasives, furniture, footwear, clothing, automotive. Official Supplier of the Giro d'Italia since 2014, with the supply of fabrics for the Pink Jersey Sitip has further consolidated its relationship with the cycling industry demonstrating the great experience in the production of highly technical sportswear fabrics, used by the largest international active brands.
Continous innovation goes hand in hand with a forward-looking business strategy. Sitip, in fact, makes use of the latest technologies and the most advanced machinery to allow continuous production and quality updating. Research and Development activities are carried out in close cooperation with its customers and partners. Environmental awareness and responsibility are essential for Sitip, which produces according to the strictest international regulations, such as OEKO-TEX and BLUESIGN.
SITIP exports all over Europe, Central and North America, Asia. Thanks to the internal supervision of the entire production process - from spinning to quality control - the company is able to guarantee an extremely complex and qualified offer. Go to the website www.sitip.it
Rosti
"What costs the most is sacrifice. But it is from daily sacrifices that quality comes. And only those who know what sacrifices are, recognize quality". Rosti is located in Brembate, between Bergamo and Milan, in the center of Lombardy. This splendid stretch of land surrounded by Brembo and Adda is considered the cradle of cycling in Italy. A place where the textile tradition is deeply rooted. A land where love for cycling meets and merges with the technological vanguard. Rosti designs and manufactures cycling clothing, for every specialty, for all seasons and with any type of specification: prototypes, small series, large sponsors, training, race and post-race clothing. There is no limit to technical and graphic customization.