ROICA™ V550: the Degradable Stretch solution for a New Generation of Denim March 2023- The international eco-tech yarn innovator and manufacturer ROICA™ by Asahi Kasei leads the way in circular stretch innovation at Kingpins Show, one of the key jeans supply chain events at international level.
From April 12th, the Japanese company joins the event showcasing its latest innovation, the premium & smart stretch yarn ROICA™ V550, a pioneer in eco-circular Stretch which is:
The world-first sustainable degradable stretch yarn by Asahi Kasei ROICA™ V550 is a world-first, Cradle to Cradle-Certified™ stretch yarn with a Material Health Gold Level Certificate.
It degrades under ISO14855-1 tested by OWS decomposing to CO2 and water.
So, on top of Asahi Kasei's premium stretch standard quality and performance, today we can deliver also a contemporary, certified, degradable and safe end of life to denimwear.
"We are excited to be here. Our mission at Kingpins is to weave new sustainable values into the wardrobe of the contemporary consumer, the key and ultimate game changer for sustainable fashion." declares ROICA Senior Executive Manager Takehiro Kamiyama "How? As the world-first sustainable degradable stretch yarn our ROICA™ V550 is a pioneer in circularity. Indeed, it is the first Cradle to Cradle-Certified™ stretch yarn, and in order to ASSURE that what is labelled as ROICA™ Sustainable truly reflects the brand's new generation values, the company created and introduced a branding policy indicating the allowed blends for their smart yarns belonging to the unique ROICA Eco-Smart™ family. A big step toward complete transparency and transparent AUTHENTIC communication.".
This Kingpins exercise is totally reflecting ROICA™ by Asahi Kasei objective to deliver new generation of values, and whose strategy is based on two key elements: a strong focus on responsible innovation and a consolidation of selected partnerships along the whole supply chain in order to deliver creativity, solutions and design to all contemporary consumers, exactly what is happening here at Kingpins
ROICA™ V550 as a special new responsible and innovative solutions introduction, but also key partnerships with leading denim company such as Artistic Milliners, Candiani Denim and Prosperity, that have "adopted" this special eco-high-tech yarn into their special collections on show at Kingpins and featured at global level to all key jeans' brands. Sustainability in jeans manufacturing is for real.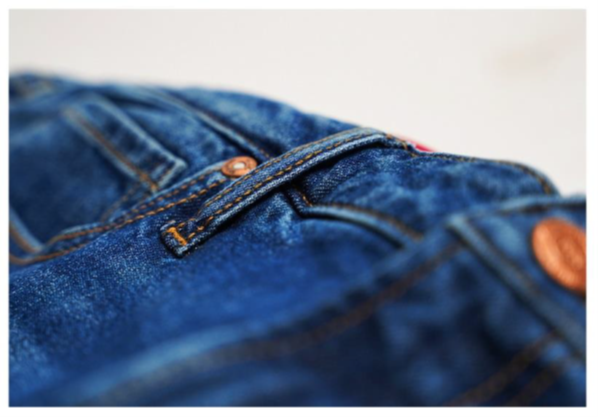 Let's go through them:
1.The one with Artistic Milliners for the Earthcore Line: Artistic Milliners has expanded from a denim mill into a global service ecosystem focused on leading, fashion into a better, more sustainable future, while striving for excellence in every facet of its vertical operation. Their footprint now includes Star Fades International (SFI), a fully operational denim laundry and design center located in Los Angeles, CA as well as its expansion into Mexico. It also includes Artistic Energy, Artistic Lab in Dubai, Soho Incubator in New York, and Artmill, its first foray into premium woven. It was the first manufacturer in the world to develop cradle-to-cradle Gold Certified Denim Fabric in partnership with G-Star RAW using ROICA™ V550 premium and degradable stretch. Its Earthcore platform, focuses on using biodegradable/compostable materials, with stretch being represented by the degradable ROICA™ V550 premium stretch ingredient, which aligns with the principles of total circularity, generating zero waste.
Earthcore fabrics are Ellen MacArthur Jeans Redesign-compliant and feature the company's proprietary Crystal Clear 2.0 dyeing tech, which enables salt-free Sulphur overdyeing.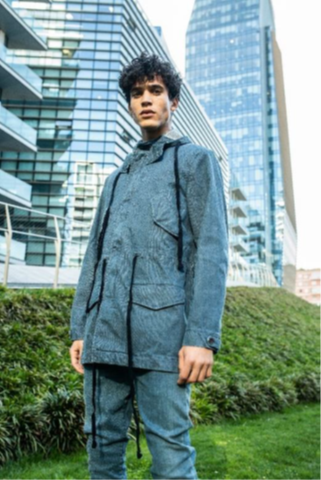 2.The one with Candiani Denim for the ReSolve collection: thanks to its blend of GOTS certified organic cotton/regenagri® certified regenerative cotton with ROICA™ V550, ReSolve represents a real innovation and uniqueness, a step further on the sustainable properties of fibers. ReSolve is a next step to a greener denim production by combining innovative fiber blends and revolutionary dyeing and finishing technologies.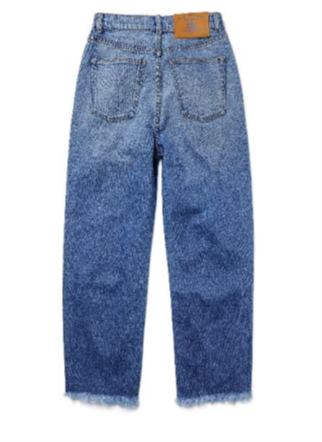 3.The one with Prosperity for the LEAVE NO TRACE line: Prosperity Textiles was founded in 2002 in Shaoguan, China - an area famed for its forests, rivers and mountains. Prosperity has since grown into a denim operation with 2 production sites and 1,900 employees worldwide, with a second state-of-the-art denim mill opened in Vietnam in 2018. LEAVE NO TRACE is dedicated to denimwear that on top of design and quality is taking care of a fundamental element of responsibility: the end of life of denim! The collection features a range of 11 styles using ROICA™ V550 premium degradable stretch fiber, next to bio-based polylactides and CICLO™ infused recycled degradable polyesters - with Prosperity Textile not just offering the choice of extra comfort and performance but also taking that extra mile toward leaving "no trace behind" on its journey to a better denim industry.
At the booth, visitors will also discover interesting developments using ROICA™ V550 from other mills which are also at the show.
ROICA™ @Kingpins for a New Generation of Denim:design, innovation, comfort and responsibility, all together! Discover the latest ROICA™ V550 eco high tech stretch yarn delivering a contemporary, certified, degradable and safe end of life according to cradle-to-cradle principles.