Doll Hair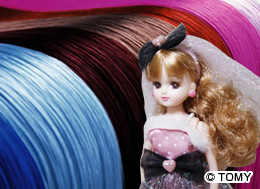 Saran™ doll hair has been adopted by the doll manufacturers of the world.
It is characterized by its brilliant color tones and natural feel. You can choose from a wide variety of colors and types.
Saran™ Doll Hair Fiber Line Up
Regular Hair
Saran is a material that is highly approved of by the popular fashion dolls of the world.
It is highly esteemed for its beautiful colors, luster, soft touch, and for how easy it is to style the hair.
Thermal color change Type TC
You can choose either of the following temperatures of 15ºC, 20ºC, 27ºC and 37ºC at which color change occurs. You can choose how to play, by warming or cooling.
SaranTC fibers are made by blending pigment-containing thermochromic microcapsules into the same polymer that is used to make other Saran fibers, which are characterized by an outstanding capability for the development of bright, fresh, lasting hues and colors. The microcapsules become increasingly transparent under warming, resulting in a gradual change in the apparent color of the Saran TC fibers, throughout the color-transition temperature range
Glow in the dark Type LS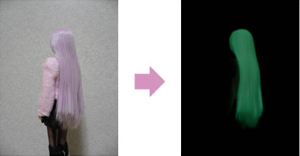 It is a doll hair that accumulates light and emits colors in the dark. It can emit colors with sunlight or artificial light as its light source.
Saran LS fibers absorb sunlight or lamp light and glow in the dark, as an effect of the special luminescent material contained within each fiber. The fibers are water resistant, and show little or no loss in luminescence when wet. They are available in both monofilament and multifilament yarns and staple fibers, for a wide range of creative applications.
Shape memory Doll Hair PS

About Shape-Retaining Doll Hair - What is it?
This doll hair was newly developed for pretend-play dolls.
It offers easy hairstyling as you like it, for your enjoyment.