Asahi Kasei Medical Co., Ltd.
ExThera Medical Corporation
December 21, 2021

ExThera Medical and Asahi Kasei Medical Enter into Partnership to Expand Reach of Treatment for the Critically Ill
ExThera and Asahi Kasei Medical secure exclusive distribution agreement in Japan
ExThera Medical and Asahi Kasei Medical, a core operating company of the Asahi Kasei Group, have entered into an exclusive distribution agreement in Japan for ExThera's Seraph® 100 Microbind® Affinity Blood Filter (Seraph 100). Per the agreement structure, ExThera Medical and Asahi Kasei Medical will collaborate to obtain regulatory approval of Seraph 100 for commercialization in Japan.
"The agreement with ExThera Medical is of great significance for the further expansion in the intensive care business field, positioned as one of our growth drivers," said Shugo Sumiyoshi, President of Asahi Kasei Medical. "We believe the Seraph 100, with its unique adsorption capability, will add new value to our healthcare solutions and contribute to more lives saved."
The Seraph 100 adsorber is the first blood purification device capable of removing a wide range of pathogens from the blood and has been used with more than 800 USA and European Union patients, in over 70 hospitals. It has demonstrated reduced mortality and ICU length of stay in severe/critically ill COVID-19 patients in preliminary clinical studies1,2. The device received European CE mark in 2019 for the treatment of bloodstream infections, and was granted use in 2020 for use in critically ill COVID-19 patients under FDA Emergency Use Authorization (EUA).
"ExThera's partnership with Asahi Kasei Medical is an important milestone in our collaborative ongoing fight against life threatening pathogens. We are pleased to partner with the Japanese market leader in extracorporeal therapeutics who is motivated to commercialize Seraph 100 and join our global pursuit of saving lives of those suffering from severe sepsis/septic shock," said Robert Ward, ExThera Medical Chairman and CEO.
Chitty et al, A Multicenter Evaluation of Blood Purification with Seraph 100 Microbind Affinity Blood Filter for the Treatment of Severe COVID-19: A Preliminary Report, (2021)
Schmidt et al, Interim-analysis of the COSA (COVID-19 patients treated with the Seraph® 100 Microbind® Affinity filter) registry, NDT, 2021; gfab347
About ExThera Medical Corporation
ExThera Medical Corporation develops and commercializes extracorporeal blood filtration devices, including the Seraph® 100 Microbind® Affinity Blood Filter for removing a broad range of pathogens from the bloodstream of patients. Seraph can be used in hospitals, clinics, or field hospitals to address infections caused by battlefield wounds or pandemics. ExThera Medical's extracorporeal products have demonstrated life-saving capabilities in a wide range of critically ill patients suffering from severe infections. With a growing body of outcome and health economic evidence from independent clinical studies, participation in the DARPA Dialysis-Like Therapeutics program, and from successful clinical use, the company is well positioned to serve healthcare professionals and patients alike. The Seraph 100® is CE marked and commercially available in the EU and has FDA Emergency Use Authorization (EUA) for treatment of COVID-19 in the USA.

For more information visit the company's website at www.extheramedical.com.
About Seraph 100
As a patient's blood flows through the Seraph 100 filter, it passes over beads with receptors that mimic the receptors on human cells that pathogens target when they invade the body. Harmful substances are quickly captured and adsorbed onto the surface of the beads and are thereby removed from the bloodstream. Seraph targets the pathogens that cause the infection, while it also binds and removes harmful substances generated by the pathogen and by the body's response to the infection. Seraph's adsorption media (the beads) constitute a flexible platform that uses immobilized (chemically bonded) heparin for its well-established blood compatibility and its unique ability to bind bacteria, viruses, fungi, and important sepsis mediators reported to contribute to organ failure during sepsis. The 'antithrombogenic' heparin media can be combined with other ExThera-proprietary media to tailor the capability of future Seraph products for the treatment of specific diseases, or to further broaden Seraph's capability.

For more news stories on the Seraph 100 click here.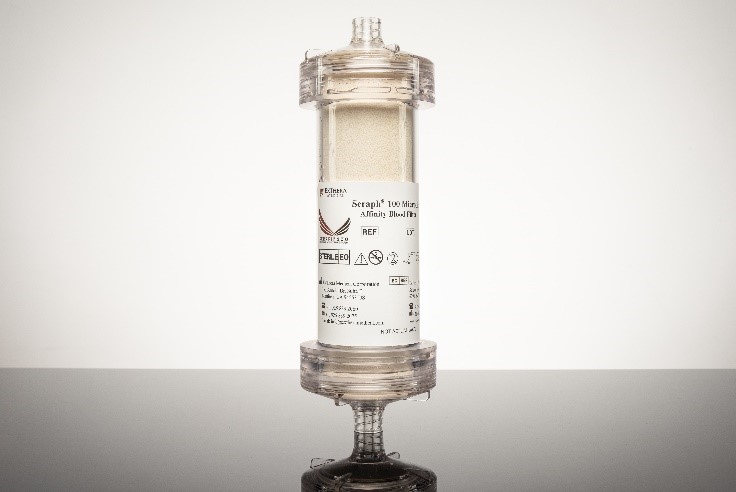 Seraph 100