Apparel Materials and Products
As an Asahi Kasei Group member, our clothing business sales yarns and textiles based on performance yarns of Asahi Kasei Fibers, as a matter of course, and proposes an integrated operation, from arrangement of original yarns to delivery of finished products.
We are doing a global business: Not only production in Japan but also fabric development, processing and sewing mainly in Asian countries.
Yarn Business -
Yarn Business - Bemberg™ (Cupro)
Bemberg™ is the brand name for Cupro, the regenerated cellulose fiber derived from cotton.
Yarn Business - Roica™ (Spandex)
Roica™, a spundex (polyurethane fiber) with excellent stretch and recovery properties, is a stretch yarn produced on the basis of Asahi Kasei Fibers' polymer science.
Yarn Business - Polyester, Acetate
We offer SOLOTEX® and TECHNOFINE®, as well as functional polyester which has properties, such as water-absorbing/quick drying property, shape stability, and stretch.
Semi-synthetic fiber "ACETATE," which is characterized by high bathochromic property and silky touch.
Yarn Business - Rayon
Viscose rayon is regenerated cellulose fiber derived from natural materials (pulp).
Cellulose fiber is a natural technology material with ecology and comfortable features.
Yarn Business - Leona™ (Nylon 66)
Nylon 66 fiber, which has high strength, high heat resistance and light weight property, are used in a wide industrial material area, centered on the automotive industry.
Textile Business - Outerwear
Our textile business deals with differentiated materials by stretch, or fibril centered on chemical synthetic long fibers, such as Bemberg™.
Our fabric business deals with brands of high-tension materials with various functions, so that we can make proposals suitable for your needs.
Textile Business - Innerwear
Fabrics with high stretch or fabrics gentle on the skin and with high functionality based on materials of Asahi Kasei Fabrics, such as Roica™ and Bemberg™ are manufactured in and out of Japan, and put to various uses suitable for women and men.
Textile Business - Sportswear
Active functional materials realized in the pursuit of high-level comfortableness to meet every situation for sports and lifestyle are manufactured and sold in and out of Japan.
Textile Business - Uniforms
The uniform market, which changes day to day, requires various functions, such as elastic property, breathable property, sweat absorbency, and thermal property, in various areas.
We develop and sell functional textiles that meet customers' needs with an integrated production system, from selection of raw yarns, through weaving/knitting and dying/processing.
Textile Business - Clothing Materials
We offer secondary materials important to make clothes to realize, such as wear comfort and silhouette shapes, based on Bemberg™ lining.
We propose products suitable for a wide range of scenes, from formal clothing through casual clothing.
Garment Business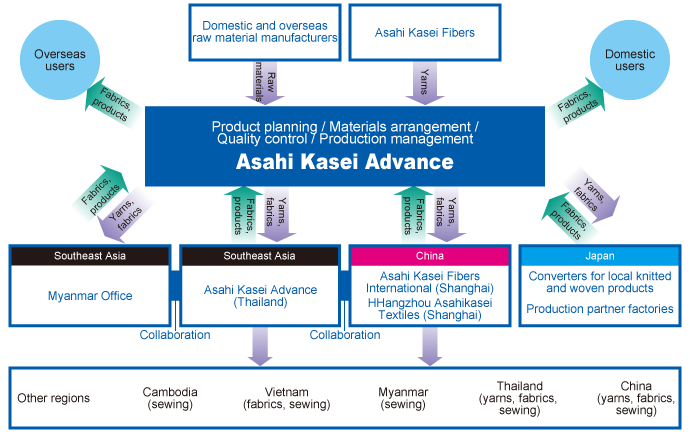 In close cooperation with Asahi Kasei Group members in and out of Japan, we provide an integrated operation, including development and manufacture of a variety of differentiated materials, and design and manufacture of sportswear, uniforms, and innerwear and outerwear through a global network in and out of Japan.
page top