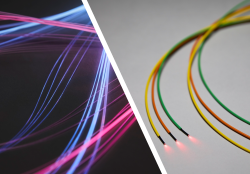 High-performance plastic optical fibers are a product of the world-leading polymer and spinning technologies of Asahi Kasei.
With their highly transparent PMMA (polymethylmethacrylate) core and fluoropolymer clad, Asahi Kasei plastic optical fibers are becoming the material of choice for the emerging era of optics, in data transmission systems, sensors, light guides, and decorative illumination.
Specifications are subject to change without notice.