Product design guide
Product grade and density
Select raw material based on the density of finished product you wish to have using the table below.
Our product variations are from high-strength grade (3.5x times expansion, 285g/L) to light-Weight grade. (10x times expansion, 100g/L)
You may also contact us for details on how to select the right grade for your products.
SunForce™ material grade
Molded products
Grade
Bulk density
Expand ratio
Molding crack
Product density
g/L
pcf
g/L
pcf
BE265
265
16.5
x3.5
7%
285
17.8
BE180
180
11.2
x5
7%
200
12.5
BE130
130
8.1
x7
7%
140
8.7
BE90
90
5.6
x10
7%
100
6.2
(Precautions)
Please take into consideration that the density of the finished product may be lower in hard-to-fill areas of the mold.
Product density and flammability
Thickness of product to achieve UL-94 V-0 flame retardancy is listed in the table below.
| Product density (g/L) | Expand ratio | Flame retardancy | |
| --- | --- | --- | --- |
| 285 | x3.5 | UL94-V0 | 3mmt and more |
| 200 | x5 | UL94-V0 | 3mmt and more |
| 140 | x7 | UL94-V0 | 3mmt and more |
| 100 | x10 | UL94-V0 | 5mmt and more |
Shape of product
As the bead size of SunForce is small, filling of mold becomes easy, thus enabling various designs.
Here are a few points to take note of to ensure even filling of SunForce during molding.
Design advice
1. Protrusions
Filling of mold during production is difficult in small areas.
Design your drawing by referring to the graph of height of protrusion versus minimum required width for each SunForce grade.
For example, if you are using 10x expansion beads, the minimum width you should use for a 36mm high protrusion is 6mmt (based on the ratio of 6:1 as shown in graph below).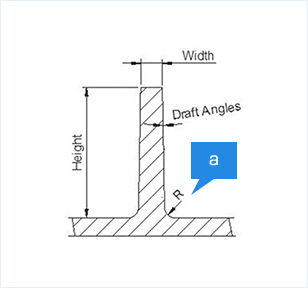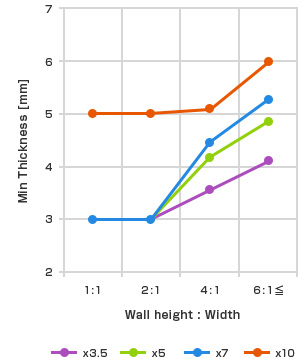 2. Corners
Straight corners can result in insufficient mold filling. By giving a 'R' shape to the corner (labelled as 'a' in the diagram above), you will be able to achieve a smoother and better-filled corner. The recommended minimum width for 'R' is 2mm.
3. Draft angles
To facilitate demolding of SunForce parts from the mold, we recommend that the minimum draft angle, or degree of taper to be 1°(use 3 degrees or more for areas that are hard to demold).
4. Gaps
Ensure that the gaps (also width of mold) are no less than 3mmt as the pressure from surrounding material may alter shape of mold. On the other hand, mold width that is too wide will cause improper fusion of material. Install core vents to ensure proper flow of steam and sufficient heating of material.
Design guide for mold
Similar specifications to EPP molding dies
Mold shrinkage
7 / 1000
Draft angle

1deg. and more for better ejection

Recommended angle: 3-5 degrees (Effects on cooling time and defect rate)
Through hole part needs 3deg and more.

Thickness of mold cabity
Evenly EPP (15mmt recommended)
Core-vent pitch
Evenly EPP (Slit Pitch: 20-30mm)
Mold material
#AC2B (JIS)
Range of possible thickness
3〜60mm (In case of product density: 140g/L)
NC milling process is recommended if flatness and dimensional accuracy are necessary.
Example of standard molding tool
Clamping
(Filling & steam heating & cooling)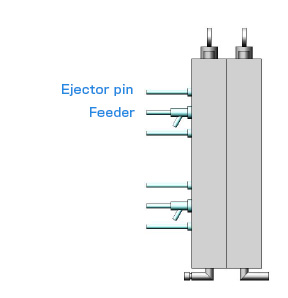 Opening
(Molding release)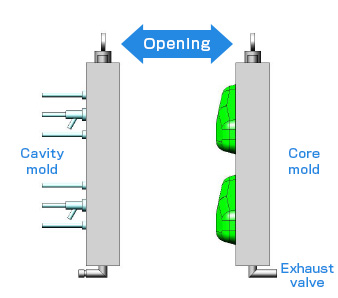 Cavity mold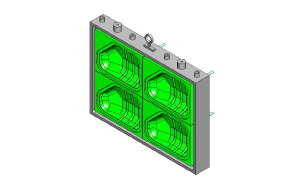 Core mold