Groundbreaking ceremony for the second plant for plastic compounds in the US
October 1, 2014
Asahi Kasei Chemicals Corp.
Asahi Kasei Chemicals hold a groundbreaking ceremony on September 29, 2014, for a plant for plastic compounds1 in Athens, Alabama, as the second plant of its US subsidiary Asahi Kasei Plastics North America, Inc. (APNA). The ceremony was attended by Mr. Greg Canfield, Secretary of the Alabama Department of Commerce and Mr. Kazuo Sunaga, Consul General of Japan in Atlanta, as well as key personnel of APNA and Asahi Kasei Chemicals.
Background
Having identified an expansion of compounding operations as a critical element in the strategic growth of its engineering plastics business, Asahi Kasei Chemicals has expanded its compounding facilities in Asia as well as in Michigan, where APNA is based. Construction of the second North American plant for compounds in Alabama will enable increased supply to meet customer needs in the Southern US, where demand growth is most notable.
Outside North America, Asahi Kasei Chemicals has operating bases for plastic compounds in Japan, China, Thailand, Singapore, and Belgium. The company will continue to develop high-quality and high-performance products in accordance with market needs, while studying ways to further expand its supply infrastructure.
1Synthetic resin containing glass fiber, flame retardants, and other additives to provide additional performance characteristics.
Outline of the second compounding plant
| | | |
| --- | --- | --- |
| Location: | | Athens, Alabama |
| Capacity: | | 30,000 tons/year |
| Main products: | | Thermylene™ PP, Leona™ PA66, and other performance plastic compounds |
| Start-up: | | Early 2016 |
Corporate profile of Asahi Kasei Plastics North America, Inc.
Location:
Fowlerville, Michigan
Establishment:
July 2000 (company name changed in August 2005)
President:
John W. Moyer
Shareholder:
Asahikasei Plastics (America) Inc.

*

(100%)
Operation:
Manufacture and sale of Thermylene™ PP, Leona™ PA66, and other performance plastic compounds
Capacity:
105,000 tons/year
*

Wholly owned subsidiary of Asahi Kasei Chemicals.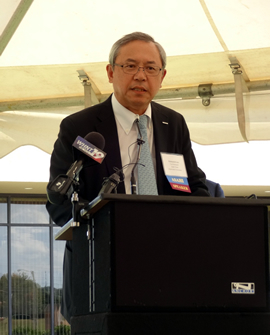 Yuji Kobayashi, President of Asahi Kasei Chemicals, speaking at the ceremony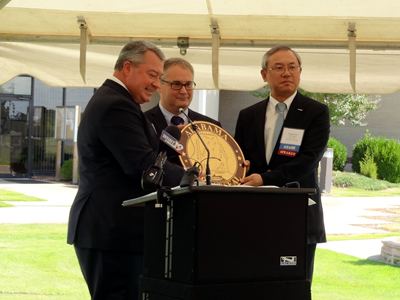 Receipt of the Great Seal of the State of Alabama
(from left) Mr. Greg Canfield; John W. Moyer, President of APNA; and Yuji Kobayashi