What is Bemberg™
The raw material of Bemberg™
Bemberg is a regenerated fiber made from cotton linter,
by-product which is removed for extracting cottonseed oil.
Derived from cotton


Born from cotton linter

Bemberg is the brand name for cupro, which is regenerated cellulose fiber made from cotton.
Made from cotton linter –
the fuzz around the cotton seed
Asahi Kasei uses its proprietary technologies to refine and dissolve the linter that is not normally used as fiber, transforming it into pure regenerated fiber.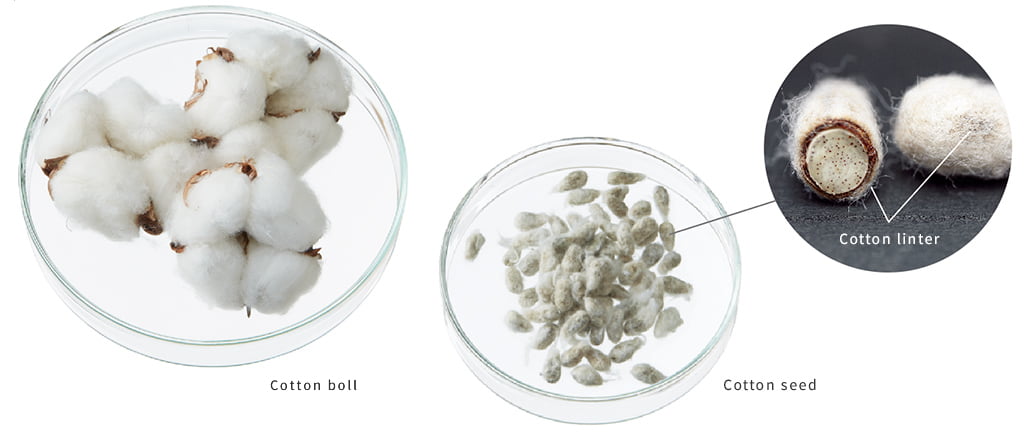 Using the power of science
to surpass cotton in terms of comfort
Although it is derived from cotton, Bemberg does not have the non-uniformity of thickness found with natural fiber, and it is very fine and has an almost round cross section. Asahi Kasei uses the power of science and technology to surpass cotton in terms of comfort.

Non-refined linter

Refined linter

Bemberg continuous filament and staple fiber
Eco-friendly


Born from nature, return to nature

Made from a natural material, Bemberg is a biodegradabale and compostable fiber that breaks down naturally after disposal.
Return to the soil after use
Bemberg is biodegradable when buried. For example, in summer conditions (temperature 35°C, humidity 80%), the weight of the material decreases by one half in nearly two months. The fiber is decomposed by living organisms and returns to the soil.
Bemberg

Original fabric

After 1 month

After 2 months
Polyester

Original fabric

After 1 month

After 2 months
Biodegradability test of
Bemberg and polyester -- 2 weeks
Low environmental impact even when burned
Even when burned, Bemberg produces less toxic substances.
■

Gases released by the combustion of fibers
Bemliese™ -- the world's only cupro continuous-filament nonwoven product born from cotton linter

Bemliese is a continuous-filament nonwoven product, which is made by converting refined cotton linter into sheets at the plant. It is made by applying Asahi Kasei's proprietary technology that uses 100% cellulose filaments and their self-bonding capabilities.
Measured at Asahi Kasei R&D Laboratory for applied products