Sustainability


Production system

We reduce the environmental impact with innovative
technology and techniques in our manufacturing processes.
Our on-site power generation facilities


Forty percent of our energy consumption is renewable

Bemberg plant uses power generation facilities owned by Asahi Kasei.
Forty percent of the energy consumed in the plant is renewable and is derived from sources such as hydro power generation and biomass power generation.
We reduce energy waste by using exhaust heat and by reducing heat loss,
which leads to the reduction of CO2 emissions.
Energy composition
in Asahi Kasei Nobeoka in 2015
Energy composition in Japan

(Introduction status of renewable energy in 2014)*
Number of Asahi Kasei's hydropower generation facilities : 9(the oldest has been in service since 1925)
Photo: Hoshiyama Hydropower Plant of Asahi Kasei
Number of Asahi Kasei's biomass power generation facilities : 2 (2012 -)
Photo: Okatomi Biomass Power Plant of Asahi Kasei
Upcycling fiber waste


Zero waste emissions

"Zero emissions" refers to the efforts such as reducing and recycling waste, aiming to eliminate the waste that ultimately ends up in a landfill. Asahi Kasei recycles even the waste from our plants and factories.
For example, the fiber waste from the Bemberg manufacturing process is reused as fuel for power generation.
Currently, Asahi Kasei has achieved almost 100% zero emissions (99.8% in 2016).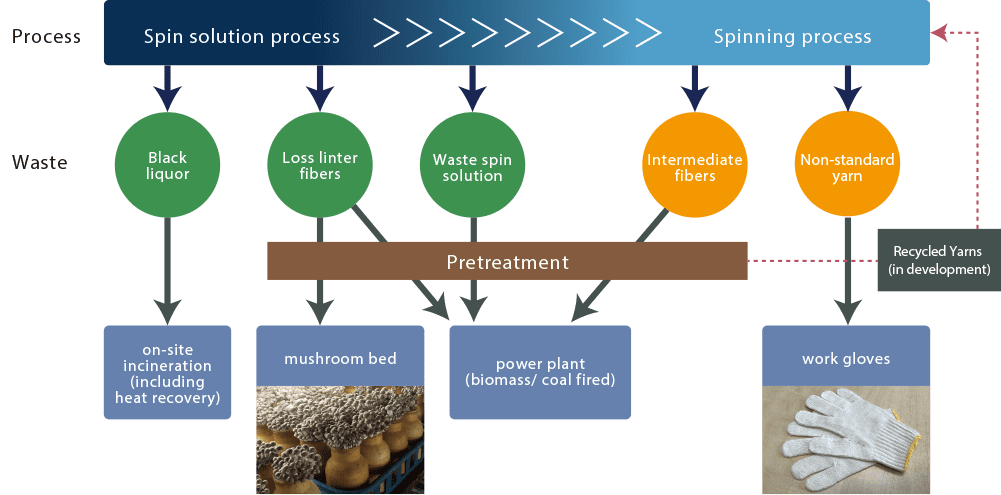 GRS (Global Recycled Standard) certification acquired
Bemberg gained high recognition for environmental and chemical safety practices in our traceable production system, as well as for our contribution to a recycling pre-consumer waste.
In 2017 Bemberg acquired the GRS certification by Textile Exchange.

About Textile Exchange

A global non-profit that drives industry transformation in preferred fibers, integrity and standards and responsible supply networks to reduce the textile industry's impact on the world's water, soil and air, and the human population.
About GRS certification

A certification ensures transparency and traceability of recycled material and products.
【Criteria】

Procurement of raw material : At least 20% of raw materials shall be recyclable.(In case of Bemberg 100%)
Production process : Products are manufactured and stored in a process with a thorough traceability mechanism.
Social responsibility : The company fulfills its social responsibility.
Companies all over the world that used to produce the cupro fiber
As the only company in the world that handles cupro (Bemberg), Asahi Kasei is striving to improve its quality and expand its applications.