For Other Products
Artificial Turf (only fiber for Artificial Turf)
Fiber for Artificial Turf
As Saran™ has excellent flame retardant, it is suitable for the artificial turf of indoor stadium which is needed flame retardant.

Features
1. Excellent flame resisting
2. Permanent set in fatigue will be hardly occurred because of its high elastic recovery.
Specifications of the fiber (flat type)
denier(*1)
corresponding decitex/filament (*2)
wide/narrow
750/1(1500/2)

830/1(1660/2)
4.2
550/1(1100/2)
610/1(1220/2)
(*1)1g/9,000m = 1denier
(*2)1g/10,000m = 1decitex
About Saran™ for Fishing Net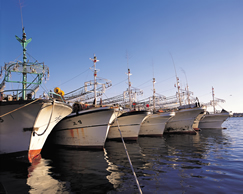 Saran™ is a very heavy fiber (1.7 in the specific gravity). Moreover, It has little water permeability. When it is used for the fishing net, two features appear bellow.
1.The sinking velocity of fishing net in water is fast.
2.It is not influenced easily by the tide, and the net extends beautifully.
3.It is not violated easily by seawater.
Usage example
Saran™ is used well for Gillnet, because of the features that the net extends beautifully in water. Especially, as the specific gravity is heavy when using lower part of Gillnet, it seems to be able to extend more effectively in water.