Business Domains
Measuring device business
Our lineup of original products employing diverse sensing technologies and electronic device technologies include:
The oil leak detector Apolarm™ C, which enjoys a top market share in Japan
The oil film detector Apolarm™ M, which can detect even extremely thin oil films
The Apolarm™ F, which can detect oil in water-soluble form
These and other products contribute to efforts to protect the environment.
We develop and market new products on a continual basis to satisfy the need for such apparatus as diagnostic tools that combine the equipment diagnostic technologies developed by the Asahi Kasei Group of companies with the electronic device and systematization technologies of our company.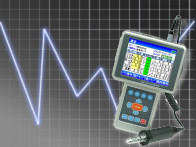 Printed substrate business
Our Printed Substrate Unit is composed of a group of printed substrate personnel specializing especially in the creation of test boards and reliability evaluation boards. Our experience and expertise in these fields, and the professional know-how we have built up as a result, are useful in the manufacture of highly intricate, niche boards for customers' most detailed needs. Our business extends beyond boards to also include the design and manufacture of circuits and configurations such as function modules for board-related jigs and configuration components, taking advantage of our personnel who are well experienced in developing test programs and designing measurement devices. This comprehensive approach ensures high quality in the products we supply.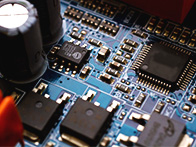 Electronics manufacturing service
We provide the prototype production and small volume production entrusted by customer and has been realizing by combining technologies accumulated in the development and manufacturing of our own product such as measuring instrument and printed circuit board and the technologies have been polished in the Asahi Kasei Group. It is our strength and are highly trusted from customer in planning, designing, manufacturing, inspection, product development and optimization.
We will also provide the solutions for all kinds of manufacturing, such as compactness, weight reduction, customization and cost reduction by using the mass production, with taking advantage of collaboration with our partner companies (cooperating companies), not only utilizing our own technology.