Our Vision
The Asahi Kasei Technosystem Vision
We stand ready to apply the technologies we have developed over time and improve them further, and to develop and manufacture superior value-added products for diverse industries and environmental fields, thereby contributing to the establishment of better social infrastructure.
(Element technologies and special products, each superior in their ability to fulfill their own auxiliary role, are required for the development of superior products and the creation of production technologies and environmental systems. We do not necessarily supply the final market directly, but instead supply high value-added products and technologies to customers who provide products and services to those final markets. We contribute indirectly in this way to the improvement of living and working conditions.)
Asahi Kasei Group Philosophy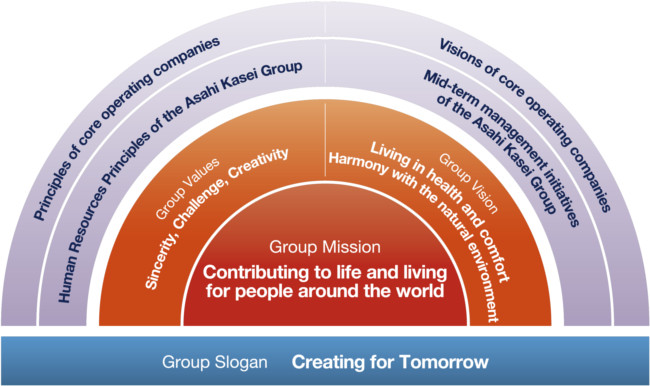 Group Mission
We, the Asahi Kasei Group, contribute to life and living for people around the world.
This is the Asahi Kasei Group's unchanging reason for being. What we never cease to strive for, though the needs of society change throughout the ages. It is in our very nature, deriving from a sincere regard for the people of the world.
Group Vision
「Providing new value to society by enabling "living in health and comfort" and "harmony with the natural environment."
This vision for the Asahi Kasei Group indicates the direction in which our business activities advance based on our Group Mission to meet the needs of the times.
Group Values
Sincerity:Being sincere with everyone.
Challenge:Boldy taking challenge, continuously seeking change.
Creativity:Creating new value through unity and synergy.
These are the shared values that must be held by the people who work in the Asahi Kasei Group. They define our fundamental approach in the process of pursuing our Group Mission, held in common among our diverse range of personnel.
Group Slogan
Creating for Tomorrow
The commitment of the Asahi Kasei Group:
To do all that we can in every era to help the people of the world
make the most of life and attain fulfillment in living.
Since our founding, we have always been deeply committed
to contributing to the development of society,
boldly anticipating the emergence of new needs.
This is what we mean by "Creating for Tomorrow."