Bottom Liquid Detector Apolarm™B(CS-0305)
The Apolarm™B system is designed to detect the presence of a relatively heavy liquid layer below a lighter liquid layer ? and thus to detect heavier-than-water liquid chemicals in water and conversely to detect water in oil and other light liquids.
The system comprises a hermetically-sealed capacitance sensor (CS-0305) and a signal converter (AS-15) for power supply, signal conversion, and alarm activation.
The CS-0305 sensor circuit applies a high-frequency potential to a single electrode at the bottom of the sensor, and detects any significant change in capacitance between the electrode and ground.
If an extraneous liquid layer forms below the lighter liquid, the resulting change in capacitance is detected, amplified, and conveyed as a signal current from the sensor circuit via the sensor cable to the AS-15 signal converter, which then engages the liquid leak alarm circuit.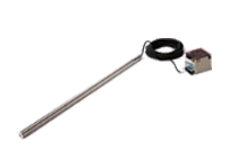 Salient features
1. Detection of extraneous liquids at the bottom of drain pits, channels,and tanks in production facilities and in utility conduits and tunnels.

・Heavier-than-water liquids at bottom of water.
・Water at bottom of light liquids.

2. Inherent operational reliability

Delay circuit in signal converter, to prevent false alarms due to transient fluctuation.

3. Strong, durable construction

・Stainless steel (SUS 304) sensor body.
・Stainless steel (SUS 316) electrode.
・Flex-, heat-, and oil-resistant sensor cable with PVC sheathing.

4. Fail-safe alert

System alarm automatically initiated by relay circuit, in the event of power loss at signal converter, cable disconnection, or cable short-circuit.
Specifications
Sensor - Apolarm™B (CS-0305)
Detectablel layer thickness
3 mm or more
Detection oils
・In water:Water-insoluble liquids of >1.0 S.G. and <= 5.0 permittivity
・In oils:Water

Housing structure
Watertight, IEC Class IP67 equivalent
Housing material
Stainless steel (SUS 304)
Electrode material
Stainless steel (SUS 316)
Electrode insulator
Teflon (TM)
Operating temperature
-10 to +50°C(liquid layers must be free from freezing)
Dimensions
Diameter 25 mm, length 50~200 cm (inquire for details)
Weight (1m length)
Approx. 1.7 kg (excluding sensor cable)
Attached cable
0.2 mm sq. , 2-wire, 10 m length (Highly flex-, heat-, and oil-resistant)
Signal Converter - AS-15
| | |
| --- | --- |
| System alarm | Initiated by power loss at signal converter, cable disconnect, or cable short-circuit |
| Delay timer | Adjustable, approx. 1-10 sec |
| Power source | AC100/110V, 200/220V; 50/60 Hz |
| Power consumption | Approx. 2VA |
| Relay contacts | Form C configuration for both oil detection signal and system malfunction signal |
| Terminal rating | AC250V,4A; DC30V,4A |
| Operating temperature | -10 to + 50°C |
| Operating humidity | 95% RH |
| Power source | 100-110 V AC or 200-220 V AC, 50 or 60 Hz |
| Dimensions (W x H x D) | 80 x 120 x 76 mm |
| Weight | Approx. 0.8 kg |
System schematic