Automatic Viscometer
Capillary blood vessel (Ubbelohde viscosity tube) type automatic viscosimeter
The degree of polymerization of various polymers and the viscosity which is an indicator of material quality assurance. It measures and evaluatesthe the viscosity with capillary (Ubbelohde viscometer) method with high accuracy.
Improvement of co-washing method and measuring sequence provides the time saving.It contributes to eliminating variations in viscosity measurement at mass production plants and saving labor in measurement work, and is utilized by many factories in domestic and in overseas.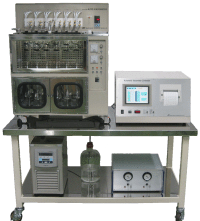 Salient features
1. Operational Advantages

・Increased accuracy through automation. Human. Human error in measurements is completely eliminated.
・Increased capacity of measurement and elimination of labor.
・Use of the system generally result in the elimination of one analyst per unit.
・Faster data feedback.
The feedback to the production line of data on quality is greatly accelerated through the reduction in time required for measurement

2. Main Features

・Special self-washing process that utilizes the sample
Owing to this significant new washing process developed by Asahi Chemical, measurements will be virtually unaffected by residue, because even with a sample of a s little as 50 mL it is possible to dilute the residue to one part in 1000.
・Labor saving through simplified operation
After the positioning of the sample bottle no other manual operations are necessary;every-thing is automatic.
・Outstanding reproducibility
Through modification of the Ubbelohde tube (incorporation of an upper level stabilization tube), the drop point is fixed, resulting in superior reproducibility.
・Rapid measuring
Measuring time is shortened by means of the sample wash system.
・Strong and reliable construction
High reliable due to IC, a crystal oscillator, and solid state photocells


3. Configuration

The system is composed of the measuring module and the control module.
・Measuring Module
This module includes the capillary tube system, photo sensors, temperature regulators, and solenoid valves. All functions from sample input to viscosity measurement and sample drainage are performed on command from the control module.
・Control Module
This module includes the touch panel, the photo switch amplifier, the digital counter, the printer, and the power supply unit. All programmed measurements are performed on command from this module. An optional calculator can be installed to compute the kinematic viscosity from the rate of descent.


4. Outline Automatic Operation

・By pushing the Start button, all operations are performed automatically as programmed by a command from the control module which actuates the solenoid valves.
・Stirrer action in the temp, control bath ensure a uniform temperature in the bath. The bath temperature is controlled to within plus minus 0.01°C by means of a temperature regulator.
To prevent overheating, the overheating detector unit sounds an alarm and shut off the heater power when the designated temperature is exceeded.
Specifications
Measurement unit

Viscosity tubes
Modified Ubbelohde capillary
No. of tubes
2 (AVL-2C), 4 (AVL-4C), or 6 (AVL-6C)
Sample temperature
20 to 80°C, stabilized to plus or minus 0.01°C
Material of solenoid valves
PTFE
Sample volume

50-100 mL (depending on no. of repetitions)


Principal components
Temperature control bath, bath mixer, light, photoelectric meniscus detector, solenoid valves
Dimensions
(W x D x H)
AVL-2C and AVL-4C : 600 x 570 x 920 mm , AVL-6C : 760 x 570 x 920 mm

Weight (with full water bath)
AVL-2C and AVL-4C : approx. 150 kg , AVL-6C : approx. 160 kg


Console

Main controller
High-end PLC sequencer
Printer
Thermal printer for test results
Operation and display panel
Programmable touch screen
Measurement range and precision

0.01 to 999.99 plus or minus 0.01 seconds

Formula for viscosity calculation
Factory programmed per customer specification
Data interface
D-sub 9-pin RS232C serial
Power supply
100 plus or minus 10 V AC, approx. 200 VA
Dimensions
(W x D x H)
600 x 450 x 350 mm
Weight
Approx. 30 kg 

Water cooler

Dimensions
(W x D x H)
265 x 375 x 455 mm
Weight (empty)
Approx. 29 kg


Vacumm pump unit

Configuration
1 diaphragm pump (standard)
Internal material
PTFE
Dimensions
(W x D x H)
215 x 300 x 200 mm
Weight

Approx. 10 kg

Temperature controller

| | |
| --- | --- |
| Mechanism | Thermistor detection |
| Sensitivity | 0.01°C |

Waste bottles
Application
Measurement of viscosity in:
1. Fiber-forming polymers such as nylon, polyester, acrylic and polyurethane
2. Petroleum refinery products
3. Petrochemical products such as polyvinyl chloride, poly-styrene, and synthetic rubber.
4. Synthetic fiber materials
5. Petrochemical materials