PAOSS™ cushioning foam design solution system
PAOSS™
The use of PAOSS™, the world's first digital and simulation technology for
packaging applications, enables wide-ranging speed improvements,
resource savings, and lighter, more compact products.
PAOSS™ stands for Packaging Application Optimization by Simulation Solution. As the name suggests, it makes use of computer simulation to optimize cushioning/packaging design, and it is the world's first comprehensive solution for the design of packaging.
The use of PAOSS™ allows you to get started immediately on the packaging design for your customers' products, and to reduce total costs by minimizing packaging materials. (Design work is accepted via Asahi Kasei agencies and dealers.)
Characteristics of PAOSS™
1. Start packaging design and development from 3D drawing data
By using 3D drawings from the product design stage, packaging design work can start from an early stage—even before the product is finished. Furthermore, by exchanging information digitally and running computer simulations, it is possible to greatly reduce development lead time because there is no more need for trial and error.
2. High-precision drop test simulation
Packaging design can be performed using a high-precision drop test simulation for expensive equipment, or large, heavy products for which real drop test are difficult to conduct. Outputting the simulation results as an animation enables rapid packaging design without any waste, by simulating the product drop impacts within the exterior carton box.
3. Support for highly difficult design requests
Conducting high-precision estimates of cushioning performance when there is shear deformation and buckling for cushioning materials that are usually difficult to evaluate enables innovative design ideas.
4. Resource-saving and total cost reduction
By using the simulation to check for excessive cushioning materials, which are overlooked with conventional test methods, unnecessary cushion materials can be eliminated. As a result, resources are saved and dimensions (size) of packaging can be reduced. This, in turn, reduces shipping costs and results in a lower total cost.
5. Accumulated knowhow and data use
Packaging designs from an extensive database of design expertise accumulated from the tens of thousands of packaging designs implemented over the past 40 years can be extracted to help create highly optimized packaging designs.
Start design and development using only 3D plan data
In conventional systems, before commencing cushioning/packaging design, it is necessary to wait for the customer to complete prototypes. With PAOSS™, however, if the customer can share CAD data from the product design stage, one can start designing packaging much sooner. By working on packaging design simultaneously with product design, one can greatly reduce time-to-market.
Furthermore, exchanging data online enables rapid responses to product design changes.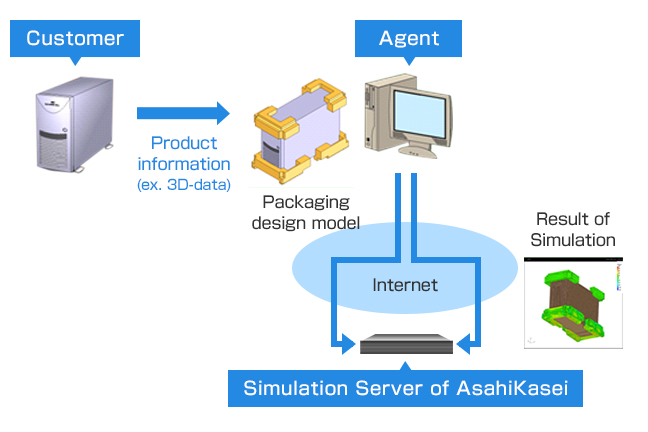 Start design and development faster, and shorten lead time
The old trial-and-error process of creating a prototype, which takes a long time, and repeatedly conducting drop tests, can be dramatically improved.
With PAOSS™, drop test simulation results can be instantly reflected in packaging designs, and used to make corrections, and the simulation cycle can be rapidly repeated. This makes it possible to efficiently create highly optimized packaging designs.
Previously, the process of design, creation of 2D CAD data, fabricating prototypes, and running drop tests was repeated right up to the time the product went on sale. With PAOSS™, however, packaging design can start from before product samples are created by repeatedly making modifications and running simulations on a computer. This approach makes it possible to complete the packaging design well before the product goes on sale.