Long-term durability / Weatherability
Long-term Durability
Long-term heat resistance (5000 hours continuous test)
Condition:
〈Bending strength (ISO1209)〉 more than 50% (Compared with before testing)
〈Shrinking percentage〉 Less than 1%
SunForce™
Expand ratio (density g/liter)
Thermal resistance temperature
x3.5(285) x5(200)
100℃
x7(140)
95℃
x10(100)
90℃
NOTE: The figures are for reference purposes. Subject to handling conditions the figures may vary.
The chart below shows the transition of flexural modulus under a long period of high-temperature. Each line shows the case of 70 / 80 / 90 degree Celsius. (Before testing = 100%)
Flexural strength [ISO1209] / SunForce™ x7 times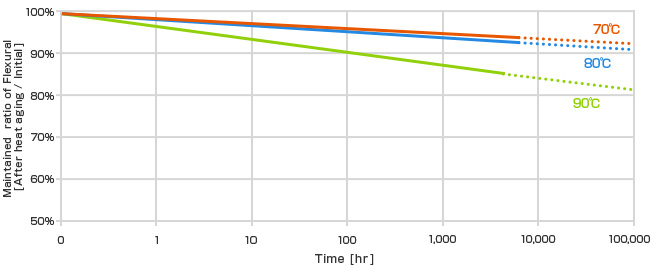 Long-term Weatherability
①Weatherability test (Equivalent to UL746C standard)
After conducting water immersion and UV/water exposure according to UL746C, SunForce can meet the criteria equivalent to UL746C f1.
*f1 certification has not been acquired.
Pre-test conditions:
[Water immersion]
Immesrsion in 70℃ water for 7days
[UV/water exposure]
Xenon lamp UV exposure (102 min.) and water spray (18 min.) is repeated 500 times (1000 hours in total)
Test Result
1. Flame retardancy test
| | Before Test | After water immersion test | After UV/water exposure test |
| --- | --- | --- | --- |
| Result | V0 | V0 | V0 |
Conditions

Flame retardancy test in accordance with UL94 (vertical combustion)
Sample

SunForce BE 10 times (10mm thickness)
2. Flextural Strength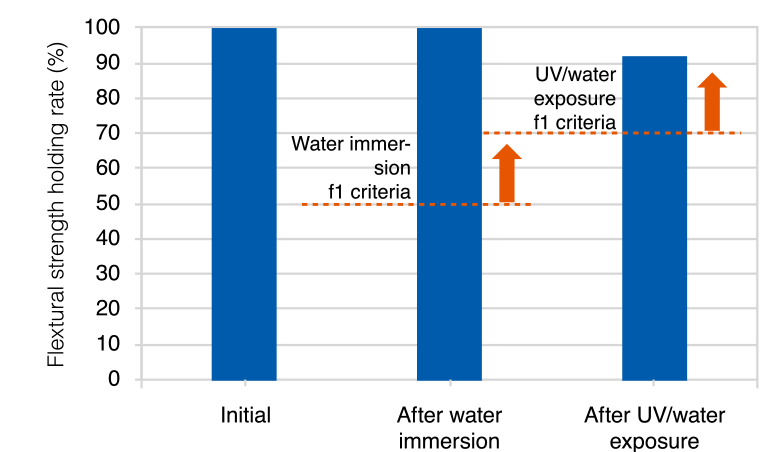 Conditions

[Span] 90mm [Crosshead speed] 4.2 mm/min.
Sample

SunForce BE 10 times (125 mm length / 13.0 mm width / 10 mm thickness)
3. Charpy impact strength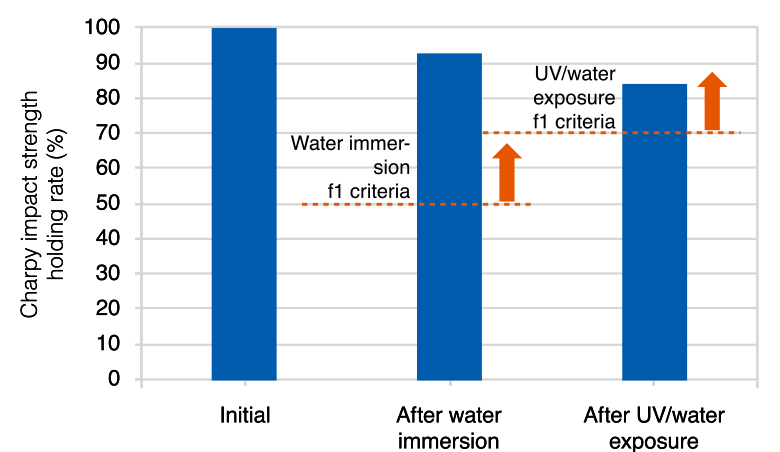 Conditions

Charpy impact test in accordance with ASTM D6110
Sample

SunForce BE 10 times (10mm thickness with notch)
②UV irradiation test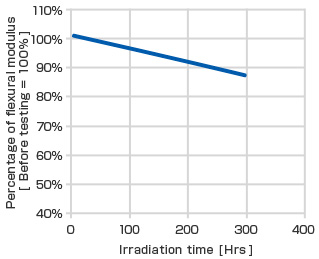 Conditions of weatherability test is as below.
Sample

SunForce (7x times expanded)
Irradiation condition

Based on ISO4892-4 (JIS K 7350-4)
Tester

Sunshine weather meter S80 (Suga Test Instruments Co., Ltd.)
Light equipment

Sunshine carbon arc (Filter: SF-A)
Black panel temperature: 63±3 degree Celsius
Rainfall condition

18 minutes / 120 minutes
*The transition ratio is different from test ① because the different light source is used.