Initial cost reductions (mold cost)
A mold is required to form plastic products. Molds are made of metal to withstand the injection of plastic at high temperatures and pressures. Metals used in the molds require high resistance to abrasion since plastics often include glass and minerals for reinforcement. Manufacturing cost of metal molds have a major effect on product cost.
The effect of mold fabrication costs is therefore significant, particularly in small lot production (less than 10,000 units).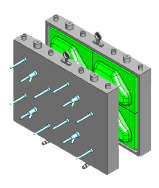 SunForce employs the same steam molding as ordinary polystyrene foam, however the pressure inside the mold is only a few hundredths of that required with injection molding.
The low pressures used permit the use of aluminum molds. Aluminum is characterized by its ease of working, and molds can therefore be manufactured very cheaply.
Compared to metal plastic injection molds of the same shape, aluminum molds can be manufactured at 10% – 20% of the cost. Products of complex shape can therefore be readily manufactured, even in small lots.