Immunoadsorption Column
Adsorbent
Material
Phenylalanine immobilized polyvinylalcohol gel
Volume
350 mL
Priming Volume
300 mL
Container
Material
Polypropylene
Dimension
211mm[L] x 62mm[D]
Weight
650 g
Sterilization
High pressure steam
Particle Removal Filter
Filter
Material
Polyethylene (coated with ethylene-vinylalcohol copolymer)
Area
0.07 m2
Container
Material
Poly (vinyl chloride)
Dimension
165mm[L] x 22mm[D]
Priming Volume
30 mL
Sterilization
Ethylene oxide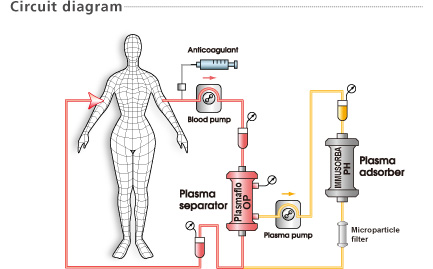 For patients undergoing treatment with angiotensin-converting enzyme (ACE) inhibitor, there is a possibility that treatment with the IMMUSORBA PH-350 will lead to a drop in blood pressure. Simultaneous treatment with ACE inhibitor and the IMMUSORBA PH-350 must be avoided.
The IMMUSORBA PH-350 is intended for the treatment of plasma. Never run whole blood through the IMMUSORBA PH-350. Thrombocytes cannot pass through the IMMUSORBA PH-350 and may cause blockage.
Do not use IMMUSORBA PH-350 with plasma containing a large amount of thrombocytes.
Trademark
IMMUSORBA is a trademark of Asahi Kasei Medical Co., Ltd.

Please feel free to send us any questions you may have about our products and support.

Share your feelings and experiences when using our products.