OP-02W(L)
OP-05W(L)
OP-08W(L)
Hollow Fiber Material
Polyethylene
(coated by ethylene-vinylalcohol copolymer)
Inside Diameter
330 μm
Wall Thickness
50 μm
Effective Surface
0.2 m2
0.5 m2
0.8 m2
Priming Volume
25 mL
55 mL
80 mL
Maximum Pore Size
0.3μm
Container Material
Polycarbonate
Dimensions
223mm[L]
x 28mm[D]
290mm[L]
x 34mm[D]
42mm[D]
x 299mm[L]
Sealant
Polyurethane
Sterilization
Gamma-Ray

The Plasmaflo OP-05W(L) Asahi plasma separator is a medical device intended for the therapeutic separation of plasma from the whole blood in a clinical setting.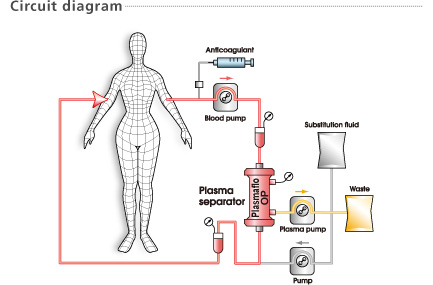 Trademark
Plasmaflo is a trademark of Asahi Kasei Medical Co., Ltd.

Please feel free to send us any questions you may have about our products and support.

Share your feelings and experiences when using our products.