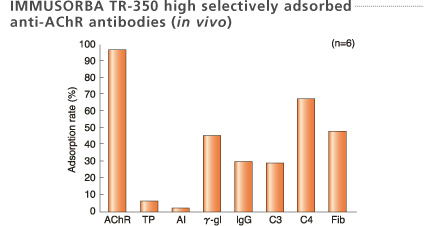 Plasma samples were collected at the inlet and outlet of the column when 1L plasma was treated.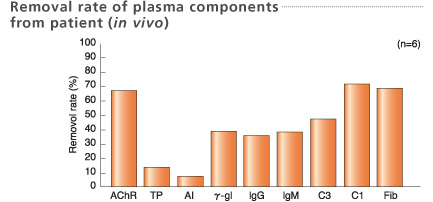 Blood samples for removal rate were collected before and after treatment.
Treated plasma volume: 2L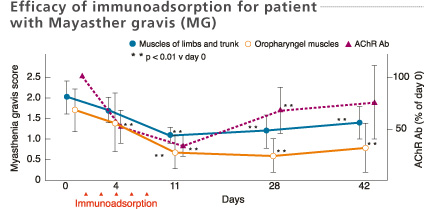 Mean values of myasthenia gravis score and titer of AChR antibodies in the 11 improved patients after immunoadsorption therapy. Consecutive immunoadsorption treatments induced a significant fall of the myasthenia gravis score and a decrease in the titer of AChR antibodies. The myasthenia gravis score remained low even on day 42 despite the rise in AChR antibody titers.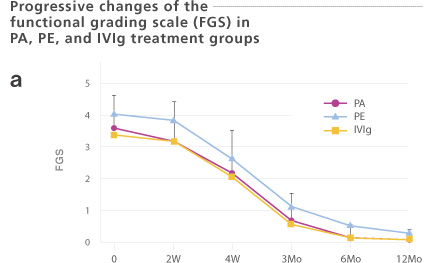 Sixty-three Guillain-Barré Syndrome (GBS) patients were enrolled. These patients were treated with plasma adsorption (PA, n=39: Immusorba TR-350), plasma exchange (PE, n=14), or immunoglobulin treatment (IVIg, n=10). The number of days required for one or two functional grades improvement was 20.3 ±15.3 or 34.8 ± 20.5 days, respectively. Treatment methods (PA, PE, or IVIg) did not significantly influence the outcome. Since PA does not result in a risk of unknown infection, choosing a PA may be justified.
Trademark
IMMUSORBA is a trademark of Asahi Kasei Medical Co., Ltd.

Please feel free to send us any questions you may have about our products and support.

Share your feelings and experiences when using our products.