Therapeutic plasmapheresis is an extracorporeal blood purification technique designed for the removal of pathogenic substances from the plasma of patients. Examples of these substances include pathogenic autoantibodies, immune complexes, cryoglobulins and cholesterol-containing lipoproteins.


Alloantibodies
Autoantibodies
Immune Complexes

Paraproteins
Cholesterol in Hypercholesterolaemia

Protein-bound Drugs / Toxins
Mushroom Poisons

Therapeutic plasmapheresis includes the following three modalities.
Plasma Exchange (PE)
Double Filtration Plasmapheresis (DFPP)
Immunoadsorption (IA) / Plasma Adsorption (PA)

Plasma and proteins pass through the membrane but the pores are small and cellular components cannot pass across the membrane.
Plasma and pathogenic substances in the plasma can be discarded or purified and returned to the patient.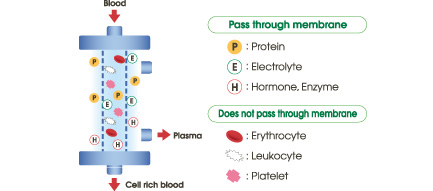 Please see below for conditions for which Plasmapheresis is indicated.

Please feel free to send us any questions you may have about the therapy and related information.

Please feel free to send us any questions you may have about our products and support.

Share your feelings and experiences when using our products.